Red Bull proud of "awesome" season
| | |
| --- | --- |
| By Jonathan Noble | Sunday, November 14th 2010, 08:28 GMT |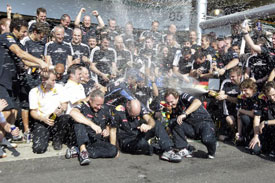 Red Bull Racing should remain totally proud of its "awesome" 2010 campaign, even if Sebastian Vettel and Mark Webber fail to capture the world title in Abu Dhabi today.

That is the view of team principal Christian Horner, who says that with the constructors' title and eight victories under its belt this season, there is no reason for the outfit to feel down if Fernando Alonso or Lewis Hamilton come out on top in the season showdown.

"No matter what happens in the race, it will be the icing on the cake," Horner told AUTOSPORT. "2010 has been a fantastic year for Red Bull Racing.

"We have won the constructors' championship and we've beaten some iconic teams. We've won eight grands prix so far, we've had 15 pole positions, which equals the all-time record, we've had 19 podium finishes, we've won Monaco, we've won Silverstone - two massive events, and it has been an awesome year for the team.

"We've also out-developed our competitors and we've done it with a customer engine. So when you consider that the group has only been together a little while - we are just completing our sixth season – it is a remarkable achievement.

"We have come here with two drivers in the world championship, we feel we have given them every bit of backing equally and, no matter what the outcome is, we will look back on 2010 as a hugely successful year."

Horner admitted there were some mixed feelings after qualifying, with Vettel on pole position and Webber down in fifth, but said the approach to the race is simple – as both men have to go on maximum attack now.

"The constructors' championship is thankfully dealt with, so there is not that added pressure to deal with," he said. "The race is quite straightforward unless two of 300 scenarios present themselves. Both drivers have got to go for it and then we will see where we end up.

"I think the battle is just so wide open. If you throw into the mix the degradation of the option tyre – which possibly Ferrari looked the worst on on Friday, then that is going to be a crucial factor.

"There are so many permutations that you cannot think or worry about all of them. We have to focus on our own performance, make sure we get a good start, and then do the basics well.

"We are the only team that has managed to get both cars into Q3 every time this year. It is a great pole for Seb and it would be great to finish the season on a high, but whatever Fernando does we can't dictate it."

Horner does not believe that Webber's recent form against Vettel – having been outqualified by him since Monza and not having beaten him on track since Hungary - means he is out of the title battle.

"The pair of them have been very, very close on many occasions," explained Horner. "In Japan and Korea, there was less than a tenth between the two of them and in Brazil they were pretty tightly matched.

"But Sebastian's hit a purple streak of form in the last third of this championship. He has had his bad luck and he has made his mistakes. Mark obviously has had his, as have Fernando and Lewis, but it is now all about what happens in the race."