Winterbottom takes race two pole
| | |
| --- | --- |
| By David Wright | Sunday, November 14th 2010, 05:08 GMT |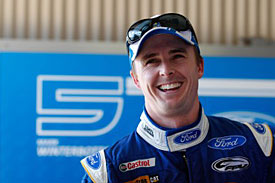 Ford Performance Racing's Mark Winterbottom has taken pole position on a soaking wet track for race two of the Falken Tasmania Challenge at Symmons Plains.
Winterbottom went to the top of the times with five minutes remaining in the 20-minute session. The only Ford in the top ten, he survived a last-lap effort from Jason Bright, who just missed out on beating Winterbottom's time, Bright virtually repeating the time he'd done to set provisional pole second before Winterbottom took it away.
Race one winner Craig Lowndes continued his push towards the championship lead with the third-fastest time, ahead of Jason Richards and Russell Ingall, with brother Rick and Todd Kelly in sixth and seventh.
It was a good session for Holden Racing Team's Will Davison, fighting for pole early in the session and finishing it in eighth, with Jason Bargwanna and Lowndes's team-mate Jamie Whincup completing the top 10.
Thirteenth for Garth Tander was a little disappointing after looking like he might contend for pole with a few minutes remaining, as was 19th for Shane van Gisbergen, who normally revels in wet conditions.
Twentieth for Lee Holdsworth was similarly disappointing, having scored his maiden win in 2007 in similar conditions, although his team-mate Michael Caruso is nine places further back after getting stuck off track and bringing out the red flag five minutes into the session.
However, the driver who didn't need to be so far back on the grid was championship leader James Courtney, who moved up to 17th on his last lap as the session ended, but fell back to 21st as other cars set faster times, with his two closest title rivals both starting in the top 10.
Pos  Driver                Car                   Time
 1.  Mark Winterbottom     Ford Falcon FG        0m59.4007s 
 2.  Jason Bright          Holden Commodore VE   0m59.4136s  +0.0129s
 3.  Craig Lowndes         Holden Commodore VE   0m59.6919s  +0.2912s
 4.  Jason Richards        Holden Commodore VE   0m59.7404s  +0.3397s
 5.  Russell Ingall        Holden Commodore VE   0m59.7786s  +0.3779s
 6.  Rick Kelly            Holden Commodore VE   0m59.7898s  +0.3891s
 7.  Todd Kelly            Holden Commodore VE   0m59.8859s  +0.4852s
 8.  Will Davison          Holden Commodore VE   0m59.9252s  +0.5245s
 9.  Jason Bargwanna       Holden Commodore VE   0m59.9417s  +0.5410s
10.  Jamie Whincup         Holden Commodore VE   0m59.9673s  +0.5666s
11.  Paul Dumbrell         Ford Falcon FG        1m00.0165s  +0.6158s
12.  Greg Murphy           Holden Commodore VE   1m00.0335s  +0.6328s
13.  Garth Tander          Holden Commodore VE   1m00.0362s  +0.6355s
14.  Fabian Coulthard      Holden Commodore VE   1m00.0427s  +0.6420s
15.  Jonathon Webb         Ford Falcon FG        1m00.1253s  +0.7246s
16.  Warren Luff           Holden Commodore VE   1m00.1443s  +0.7436s
17.  Steven Johnson        Ford Falcon FG        1m00.2128s  +0.8121s
18.  Steven Richards       Ford Falcon FG        1m00.2611s  +0.8604s
19.  Shane Van Gisbergen   Ford Falcon FG        1m00.3314s  +0.9307s
20.  Lee Holdsworth        Holden Commodore VE   1m00.4578s  +1.0571s
21.  James Courtney        Ford Falcon FG        1m00.4966s  +1.0959s
22.  Tony D'Alberto        Holden Commodore VE   1m00.5161s  +1.1154s
23.  Andrew Thompson       Holden Commodore VE   1m00.6118s  +1.2111s
24.  Alex Davison          Ford Falcon FG        1m00.8083s  +1.4076s
25.  Tim Slade             Ford Falcon FG        1m01.0615s  +1.6608s
26.  Dean Fiore            Ford Falcon FG        1m01.0965s  +1.6958s
27.  Karl Reindler         Holden Commodore VE   1m01.3937s  +1.9930s
28.  Tony Ricciardello     Holden Commodore VE   1m01.8862s  +2.4855s
29.  Michael Caruso        Holden Commodore VE   1m04.9095s  +5.5088s