Race plan straightforward says Horner
| | |
| --- | --- |
| By Steven English | Saturday, November 13th 2010, 14:29 GMT |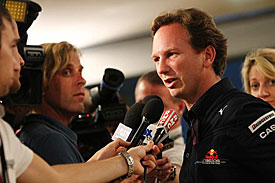 Christian Horner says Sunday's race will be straighforward for the Red Bull team, following Sebastian Vettel's pole position and Mark Webber's fifth place in qualifying today.
Webber was the team's best chance of winning the title at the beginning of the weekend, but with Vettel on pole and championship leader Fernando Alonso third, Webber now faces an uphill task to overcome his rivals.
But Horner says what is required of his two drivers tomorrow is quite simple.
"The job for Sebastian is quite clear, he's got to go, get his head down and get on with it," Horner said. "Mark has to pass Alonso, he can't afford to finish behind him. The only way to beat him is going to be to overtake him now.
"We need good pit work, good starts - we know we've got a good race car. The degredation on the soft tyre is going to be a key factor tomorrow. That's something we looked pretty good on yesterday, it's going to be a long race."
Both Red Bull drivers were on track at the same time when their best laps were set, and Horner says it was just a matter of Vettel hooking up a lap while Webber did not.
"It looked like the second lap was probably the optimum lap, Sebastian got the job done on that lap and unfortunately Mark has lost out to Jenson by less than a tenth," Horner said.
"It's a shame for Mark he's not further up. It was a choice on that last run whether you go with one lap. The tyres didn't feel like they were going to be ready. Neither driver wanted to do a one-lap run, they wanted to do a sequence of laps. Unfortunately for Mark it just hasn't come together for him."