| | |
| --- | --- |
| Pedrosa will not need further surgery | |
| | |
| --- | --- |
| By Matt Beer | Saturday, November 13th 2010, 12:16 GMT |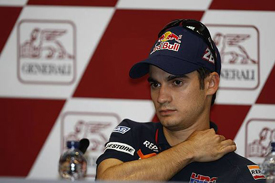 Dani Pedrosa will not need any further surgery on his injured collarbone, but has been advised to rest for four weeks to allow the issues that surfaced in the final races of the season to heal properly.
Pedrosa sustained the broken collarbone when a throttle problem caused him to crash in opening practice at Motegi.
He quickly returned to Spain for surgery and hoped to only miss the Japanese and Malaysian Grands Prix, although he also had to sit out the Australian event after struggling in practice on his return.
Pedrosa managed to compete at Estoril and Valencia, finishing both grands prix, but was concerned that he was losing sensation in his left arm as the races progressed.
After regular MotoGP surgeon Doctor Xavier Mir carried out a CAT scan, an MRI scan, electromyography and Eco-Doppler tests on Pedrosa this week, he was able to pinpoint inflamed and bruised nerves as the reason for the Spaniard's continued problems.
"Due to the trauma caused by the crash in Japan where Dani broke his left collarbone and needed surgery to fix the bone with a titanium plate, the nerve located over the collarbone, between the neck and the shoulder, received a severe contusion and the heavy inflammation of this area causes fatigue and lack of strength all through the arm," Dr Mir explained.
"He will need a period of four weeks of complete rest with physiotherapy and anti-inflammatory treatment."
Pedrosa said he was relieved to have found the cause of his discomfort in the last two races.
"I've been suffering a lot since Japan and I knew something was wrong with my arm because after the surgery I didn't get better," he said. "This lack of strength was very strange and annoying.
"I was worried because after Estoril we checked the collarbone again and it looked like there was nothing wrong with the plate, but we had no more time between races to check more deeply the reasons for my lack of strength.
"I have had other injuries and surgery in the past and I know that you need some time to recover and get fit again, but this time it was taking too long.
"Now everything is clear and it's good to know that the collarbone is okay and I don't need any more surgery that would take a long time to heal."