Lowndes wins Symmons race one
| | |
| --- | --- |
| By David Wright | Saturday, November 13th 2010, 07:07 GMT |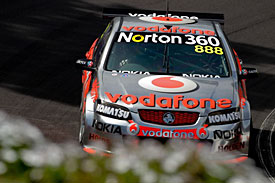 Team Vodafone's Craig Lowndes gave his championship chances a boost with victory in race of the Falken Tasmania Challenge at Symmons Plains.
Lowndes grabbed the lead at the start and was never under too much threat the rest of the way, Garth Tander hanging with him throughout the race but unable to catch Lowndes.
Greg Murphy showed qualifying was no fluke and took his first podium in over two years with third position, a couple of seconds clear of Paul Dumbrell who gained six places from his starting position by race end.
Not far behind Dumbrell was Mark Winterbottom, who looked on target for third position before an off on his out-lap after his pitstop cost him a couple of positions.
Less than a second behind him at the finish were Jamie Whincup and Russell Ingall, Whincup showing consistent pace throughout the race to move up five places from his grid position.
Steven Richards led home a train of cars in eighth place, with Fujitsu team-mates Michael Caruso and Lee Holdsworth and James Courtney less than two seconds behind him.
Courtney gained only one place from his starting position, and was lucky not to lose two more, as Jason Bright and Shane van Gisbergen's battle with each other may have saved him from losing position to both of them.
Will Davison's woes continued, finishing 22nd after being knocked into a spin at the hairpin while running in 15th place late in the race.
Today's results have seen James Courtney's championship lead over Whincup shrink to 41 points, with Lowndes 188 points behind, moving 78 points closer, and Mark Winterbottom 281 behind Courtney.
Pos  Driver                Make                  Time
 1.  Craig Lowndes         Holden Commodore VE   44m18.2888s
 2.  Garth Tander          Holden Commodore VE   +   4.1579s  
 3.  Greg Murphy           Holden Commodore VE   +   7.9877s  
 4.  Paul Dumbrell         Ford Falcon FG        +  10.2710s 
 5.  Mark Winterbottom     Ford Falcon FG        +  11.6385s 
 6.  Jamie Whincup         Holden Commodore VE   +  12.4524s 
 7.  Russell Ingall        Holden Commodore VE   +  12.6346s 
 8.  Steven Richards       Ford Falcon FG        +  18.9877s 
 9.  Michael Caruso        Holden Commodore VE   +  19.8738s 
10.  Lee Holdsworth        Holden Commodore VE   +  20.0846s 
11.  James Courtney        Ford Falcon FG        +  20.5076s 
12.  Jason Bright          Holden Commodore VE   +  22.1773s 
13.  Shane Van Gisbergen   Ford Falcon FG        +  22.6689s 
14.  Rick Kelly            Holden Commodore VE   +  23.1384s 
15.  Todd Kelly            Holden Commodore VE   +  24.6882s 
16.  Jason Richards        Holden Commodore VE   +  27.3549s 
17.  Steven Johnson        Ford Falcon FG        +  31.4606s 
18.  Jonathon Webb         Ford Falcon FG        +  32.4954s 
19.  Tim Slade             Ford Falcon FG        +  32.9001s 
20.  Alex Davison          Ford Falcon FG        +  36.9833s 
21.  Tony D'Alberto        Holden Commodore VE   +  41.1846s 
22.  Will Davison          Holden Commodore VE   +  43.5759s 
23.  Dean Fiore            Ford Falcon FG        +  49.4893s 
24.  Andrew Thompson       Holden Commodore VE   +  49.9732s 
25.  Warren Luff           Holden Commodore VE   +    1 lap
26.  Tony Ricciardello     Holden Commodore VE   +    1 lap
27.  Fabian Coulthard      Holden Commodore VE   +    1 lap
                                                           
Not classified/retirements:

     Driver                Make                  Laps
     Karl Reindler         Holden Commodore VE    36
     Jason Bargwanna       Holden Commodore VE     1