Ganassi coy on chance of Chevy deal
| | |
| --- | --- |
| By Diego Mejia | Friday, November 12th 2010, 21:30 GMT |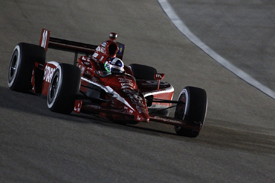 Leading team owner Chip Ganassi has welcomed Chevrolet's return to IndyCar racing and left the door open on a move from Honda power back to the General Motors fold for his squad in the future.
On Friday General Motors and Chevrolet announced that they will return to the IndyCar Series in 2012, as America's top open-wheel championship enters a new era marked by a drastic change in the technical framework, including a new chassis and a return to turbocharged engines.
While Ganassi's long-standing rival Penske has already committed to running with Chevrolet, Ganassi - whose drivers have won the last three titles - is not making any decisions yet on which engine it will run in two years' time.
Ganassi currently fields Chevrolet Impalas for Juan Pablo Montoya and Jamie McMurray in the NASCAR Sprint Cup, and is expected to remain with the brand for the next few years, having had one of its best seasons in the series with four wins including maiden victories in the Daytona 500 and the Brickyard 400, the top two events on the NASCAR calendar.
"The announcement of Chevrolet's entrance into the IndyCar Series is great for the series and I couldn't be happier," Ganassi said. "There are great things happening in the IndyCar Series right now that we should all be encouraged by.
"Our team has enjoyed a great relationship with Chevrolet over the last two years through our NASCAR programme and look for continued success with them in the future.
"When the time comes to entertain options for our 2012 IZOD IndyCar Series engine the first conversations will be with our current partners."
Chip Ganassi Racing has achieved seven out of its eight open-wheel titles with Honda, including four in Champ Car era and the last three years' IndyCar championships. Its other crown came with Toyota in 2003.
In 2000, Montoya claimed victory in the Indianapolis 500 with General Motors power as the G-Force Ganassi (then a Champ Car team) used for its one-off IndyCar appearance was Oldsmobile-powered. Also in 1989 in Ganassi's first foray as an owner with Patrick Racing, Emerson Fittipaldi won Indy for the first time in a Chevrolet-powered Penske.