Vettel content with practice form
| | |
| --- | --- |
| By Jonathan Noble and Matt Beer | Friday, November 12th 2010, 16:23 GMT |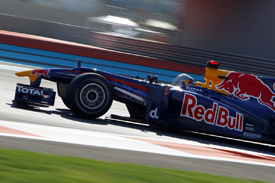 Sebastian Vettel said he was quietly confident after practice for the title-deciding Abu Dhabi Grand Prix.
The Red Bull driver - who comes into the race 15 points behind Fernando Alonso and third in the standings - was quickest in practice one and then second behind Lewis Hamilton in practice two.
"Obviously a very strong early afternoon, and the night was different conditions," said Vettel.
"Overall I am pretty happy, there is a bit of lap time still to gain and now we need to see - we have to see the pace of the other cars, and how strong we are in comparison to them. Hopefully we can pick up the pace and look to tomorrow."
He said there was nothing in the practice results that had changed his expectations of how the critical weekend might unfold.
"I think you never know what to expect unless you have the chance to drive the car," said Vettel. "Now we have had the chance and we are up there. We were always pretty close so it looks quite good, but tight - in the late evening Ferrari looked competitive and McLaren did.
"It was tight as expected, hopefully we can pick up some pace and then be a bit ahead tomorrow."
The German said he was having no trouble with his nerves this weekend despite this being his first experience of a final-round showdown.
"Usually I get tired at night, I don't know what you do, but usually I sleep," Vettel joked when asked if he was expecting a sleepless night ahead of qualifying.