Q & A: Horner on the title showdown
| | |
| --- | --- |
| By Jonathan Noble | Thursday, November 11th 2010, 17:43 GMT |
Red Bull is at the epicentre of this weekend's unprecedented four-way title decider in Abu Dhabi - not just because in Mark Webber and Sebastian Vettel it runs two of the four contenders, but because on recent form it looks likely that the championship outcome could depend on whether the Red Bull drivers co-operate with each other, with RBR adamant that it will not be issuing any team orders itself.
AUTOSPORT was there as Red Bull team principal Christian Horner was quizzed about the situation by the media at Yas Marina today.
Q. Did you allow yourself a bit of a drink on Sunday night?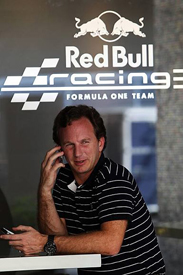 Christian Horner: Yes, it was a massive day for Red Bull and just an amazing feeling. One of the rare occasions where the team are in one hotel. Nice to have a few drinks with the team then face the 14 hour flight here.
For us as a team, winning the constructors' championship is a massive thing. It's the championship where the departments are measuring against the other teams, so for us the constructors' championship is a big thing and we're very proud to achieve it against such credible rivals. Ferrari and McLaren are massive teams to come up against. The whole team were buzzing on Monday and Tuesday.
For the drivers' championship, we're in a situation where we have two drivers who can win the world championship. Mark is in a better position than Seb, but both go into the event with a genuine chance of being able to win it.
As with all year we will absolutely back them equally going into this weekend. Their objective is to obviously win the race. We can't control what our rivals do but for both of ours the objective is to win. Ultimately if one of them can't do that, if he's in a position to help the other, whilst that would be his choice, I would expect that both drivers recognise that they drive for a great team and are big team players. I've got no doubt that they would do the right thing to help their team-mate.
Q. Do you agree with Dietrich Mateschitz that you wouldn't manipulate the result like Ferrari?
CH: The team won't give an instruction, so if he does it we know that it is entirely his own choice.
Q. Although he knows what the team would rather he did?
CH: Yes, obviously from a team point of view, but ultimately it's down to the driver to decide, it won't be something that is insisted or requested by the team, it will be down to the driver.
Q. Will you sit down with Mark and Seb to discuss it? Because Seb's going to have to know where Fernando is.
CH: I think Fernando is the key. Firstly we need to get ourselves into a good position in the race, so we have to qualify well and then see where Fernando is. Ultimately Mark and Seb will be racing each other. If Fernando is anywhere other than I think fourth then those two guys will be competing against each other.
Q. Will you want the pair of them to understand what's happening? If it's a choreographed thing Mark might not expect it.
CH: If we are in a position that we were in Brazil then I can only imagine that if Sebastian were prepared to do something for his team-mate that it would be at the very end of the race, obviously you have the assumption that Fernando has to finish, but we're a long long way from that.
We have achieved four one-twos this year and there's no guarantee that it's going to happen again. That's our target, that's what we're going for, but we mustn't underestimate our opponents.
Q. If you're in a situation where Fernando is out of the race and Sebastian was leading Mark, usually you would advise them to race each other but not take each other off. In that case is it a free for all this weekend?
CH: In that situation they are both racing for a championship and I don't think it would make one iota of difference if we told them not to race each other, which we wouldn't do. Obviously they know to finish first they need to finish. They need to finish, Fernando has scored more points than them. Ultimately they would race each other.
Q. Sebastian would be doing something for his team wouldn't he? You can't let Fernando walk away with the championship.
CH: Absolutely, for the team. He would be doing it for Red Bull. Both drivers recognise the value of the team. The team has produced a great car for them, they are both big team players. I've got no doubt that either of them in reverse situations would do the right thing.
Q. If it was in the closing stages of the race, would you give them some guidance in terms of the 'Mark is faster than you' kind of style.
CH: No, absolutely not. They need to know where Fernando Alonso is. The question we're asking is for a driver to give up a grand prix victory in order for his team-mate to potentially win a world championship. We feel that it is down to the driver. If he wants to do that it's going to be a gesture from the driver, not from the team.
Q. If Fernando is fifth, chasing very hard on the tail of the guy that is fourth and you are half a minute ahead of anyone else. You are going to need to make a decision because you are not going to know what's going to happen by the time you cross the line.
CH: It's amazing how much the drivers watch the big screen. They quite often come back and tell us what they've seen on the big screen, so I'm sure both of them will keep an eye on where the cameras are going on Fernando.
There's a million and one scenarios that could come up. Our priority is to really go for it, both our drivers have nothing to lose. From a team point of view, we've bagged the team championship, it would be fantastic to come away from here with the drivers' championship. For us it doesn't matter which one [wins it]. It would be fantastic for a Red Bull driver to win it, they would both be deserving champions. We're just going to give it everything we can and see how it pans out.
Q. Do you share Dietrich Mateschitz's point of view that it would be better to lose the championship than have manipulated it?
CH: I think the way that Red Bull has approached this championship, we've been consistent, we've backed both drivers. We've always given both drivers equal opportunity. We have two very competitive driver who push each other very hard. It's the sporting thing to do to allow them to compete. Neither driver agreed to drive for this team as a number two driver. We have never expected that, we have let each driver compete to the best of their ability.
Q. Webber was very dominant in Spain and Monaco. Why do you think he hasn't been able to repeat this performance? Has something changed with the car?
CH: I think Mark was very very quick in Silverstone and Istanbul. In qualifying there has been little more than a tenth of a second between the two of them so they have been matched very, very equally. Mark found a sweet spot with the car that he was very, very happy with in the early point of the season. The two have converged of late so it sets up a fascinating finale.
Q. Surely Mark has more to lose than the other two as it could be his best and final chance?
CH: Therefore he has got to go for it. He has driven very well to get in this position. It's a unique situation for Formula 1 to have four drivers in this position, so it's going to be fascinating to see how it unfolds. The driver that wins this will be a deserving champion.
Q. Is there a heightening sense of competition between both sides of the garage and do you have to act as referee?
CH: Absolutely not, we have a great team spirit. It is absolutely transparent the way the information is given. There is obviously competition between the drivers, but no added tension.
Q. How much are you going to talk to both drivers about not pushing each other too hard and risking the cars in the race?
CH: Both engines are in similar condition. Mark has had great reliability. Seb has had worse luck, it would be a big shame if it did play a role. In terms of if they will push each other, it is up to where Fernando is.
Q. Mark seems stressed - are you taking this into account?
CH: Mark is very focused. I haven't noticed any increased stress in him this weekend.
Q. Was there any point in the season that you thought about intervening in terms of team orders?
CH: No. I have done best to treat both drivers equally and done our best to be transparent.
Q. What about Mark's 'not bad for a number two' comment at Silverstone?
CH: Mark is an emotional guy and sometimes he uses these things to motivate himself.
Q. Any worries that Seb's engine to fail again after what happened in Korea?
CH: Hopefully we won't see it again, but it was a totally rogue failure. Mark had a water temperature problem in Brazil. We are using it as a spare engine.
Q. Would one title be enough reward for a season where you have the best car?
CH: Sitting here, we've won eight grands prix, taken four one-twos, won the British Grand Prix, the Monaco Grand Prix, had 14 poles, and pretty much 20 podiums. It's been an unbelievable year for the team.
The constructors' championship means a lot to the team. It's the realisation of a dream that Mr Mateschitz set over six years ago. The drivers' championship obviously carries a prestige with the viewer, but in terms of the championship that means the most to the team. If we can get a drivers' championship it will be the icing on the cake.
Q. Is it helpful strategically that you don't have to think about the constructors' now?
CH: It's great to have it out of the way, because it's a dynamic we don't have to think about. It's in the bag, it's purely about the drivers this weekend.
Q. Do you have any new development parts?
CH: No we had a new wing in Brazil, very, very minor modifications other than that.
Q. If you qualify one-two, what if Fernando gets you on the start? How are your starts?
CH: Starts have been pretty good. Last few races have been very good. We need a perfect weekend. Fernando will be quick here. Fernando is an awesome competitor and will be going into the race just as determined as the other guys.
Q. Is the future of Red Bull now secure?
CH: To achieve what we have in such a short space of time is a great thing. Now we have to make sure we stay there. The commitment from Red Bull is as big as any other team in the pitlane. We have a great group of people that make the team and hopefully we can build on this success and it will be the first of many.