McLaren admits upgrades insufficient
| | |
| --- | --- |
| By James Thomas and Steven English | Wednesday, November 10th 2010, 14:03 GMT |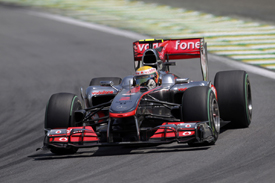 McLaren managing director Jonathan Neale has admitted that the team's slow development compared to main rivals Red Bull and Ferrari has been costly - but denied that the season should be considered a failure.
After Red Bull stormed to the constructors' title in Brazil, McLaren has been left to battle it out for second place with Ferrari.
The development race has come to dominate the latter part of the season with Ferrari making big gains after a difficult first half of the year, winning three races since Belgium to McLaren's zero.
Though Ferrari sits 32 points behind McLaren with 43 available, the Italian squad is set to have a stronger car in Abu Dhabi based on recent form.
When asked whether a slow development rate had cost McLaren this year's title, Neale acknowledged that the team's upgrades had not paid off as it hoped.
"On this occasion we didn't quite get enough [upgrades] to get the job done," he admitted during the Vodafone McLaren Mercedes phone-in teleconference.
"We have not been quick enough to over-haul the competition. Red Bull, Ferrari and even Mercedes in the first part of the season had very strong upgrade to their cars."
But Neale disagreed that the title defeat meant McLaren's development push should be considered a failure.
"I don't see that as being a failure on our part - it has been a tough job all year," he said.
Neale felt that this year's close contest had posed very development demands to last year, when McLaren made a poor start and improved by almost three seconds per lap from the season-opener in Australia to the finale in Abu Dhabi
"There's a big difference between trying to nudge ahead of the fierce competition at the front, and coming back from oblivion when everyone has already written you off," he said.
But he underlined that despite losing the constructors' title and only having a remote chance of winning the drivers' championship with Lewis Hamilton, McLaren was far from unhappy with this year - insisting that 2010 had not been a write-off.
"There will be time for reflection, but it's not exactly as though the season has been calamitous - it has been a successful one," Neale said.