Kyle Busch fined for gesture at Texas
| | |
| --- | --- |
| By Diego Mejia | Wednesday, November 10th 2010, 00:36 GMT |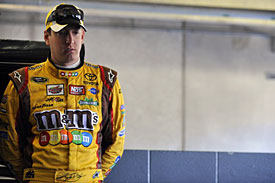 Kyle Busch has been further penalised for making an obscene gesture to a NASCAR official during Sunday's Sprint Cup race at Texas Motor Speedway.
The Joe Gibbs Racing driver was fined US $25,000 and placed on NASCAR probation until the end of the year in addition to the penalty given to him during Sunday's event.
Busch was held for two laps in the pits after gesturing with his left hand to an official while serving a penalty for speeding in the pits. He had just been involved in an incident on the track where he had been spun by another car, and while beating the pace car to the timing line following repairs, he went beyond the allowed speed limit.
Having apologized already on Sunday, Busch reiterated his regret about his actions and accepted NASCAR's ruling.
"I accept NASCAR's penalty and realise what I did during Sunday's race at Texas was inappropriate," Busch said in a statement. "Even in my relatively short time here in NASCAR, it's pretty obvious to everyone that I wear my emotions on my sleeve.
"Sometimes that passion has allowed me to find that little something extra I needed to win, and other times it's made me cross the line.
"Sunday at Texas was one of those days. I lost my cool, plain and simple. It's not acceptable, and I know that. I apologise to NASCAR, its fans, all the partners who support Joe Gibbs Racing, and all the people who work so hard to give me a racecar that's capable of winning races every week.
"All of those people deserve better from me, and I owe it to them to keep my emotions in check."
Busch is currently seventh in the Sprint Cup standings, while team-mate Denny Hamlin leads the Chase over reigning champion Jimmie Johnson with only two races remaining.