Rally of Portugal to start in Lisbon
| | |
| --- | --- |
| By David Evans | Tuesday, November 9th 2010, 09:35 GMT |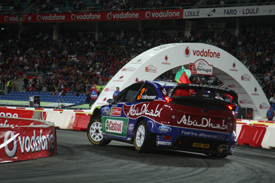 Next year's Rally of Portugal will start with a superspecial in Lisbon - meaning the return of top-flight rallying to the nation's capital city for the first time since 1974.
The crews will make the trip north-west to the Atlantic coast city after they have finished the recce and shakedown stage on Wednesday March 23.
The Lisbon-based action starts at 10am the next day when the crews will complete their recce of the superspcial stage at Praca do Imperio in electric cars. The rest of the Thursday will be taken up with autograph sessions and drivers' parades. Once the stage has finished, the crews will return to the Algarve for the regular three days of action on the gravel stages close to the south coast of the country.
A statement from the organisers said: "Lisbon was directly involved in the early editions of the Rally TAP, with Parque Eduardo VII serving as a stage that drew fans from across the country. The last year the rally started from Lisbon was 1974, in the middle of the 'energy crisis', when fuel had to imported from Venezuela to allow the event to run, which was won by Italian, Raffaele Pinto.
"The current trend implemented by the promoter of the championship - NorthOne Sport - and supported by the manufacturers, means organisers are encouraged to provide every event with greater contact with the public, particularly in populated areas. Therefore, the ACP (Automobile Club of Portugal) has launched this project to bring the WRC to Lisbon, an initiative that has generated enormous enthusiasm across the board."
There will be 16 other gravel stages totaling 240 competitive miles on the third round of next year's World Rally Championship.