Schumacher let Rosberg through
| | |
| --- | --- |
| By Andrew Papworth | Sunday, November 7th 2010, 19:59 GMT |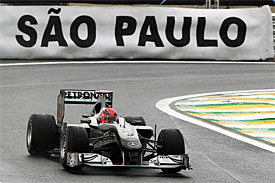 Michael Schumacher let team-mate Nico Rosberg through during the Brazilian Grand Prix as he felt he stood a better chance of overtaking Jenson Button.
Rosberg, who eventually finished sixth, was on fresher tyres than Schumacher having made an additional pitstop during the late safety car period.
"I let Nico past when he was on fresh tyres as he had the better chance to fight Jenson in front of us," explained Schumacher, who finished seventh.
Rosberg made three stops in the race after a radio problem caused confusion at his second stop.
Team principal Ross Brawn explained that the team had to ask him to stop again, but it didn't cause Rosberg to lose a position.
Rosberg praised the team for good strategy calls during the race, but bemoaned problems with traffic.
"It got a little chaotic but the team made a great call to get me on new rubber when the safety car came out," he explained. "Unfortunately Jenson did the same and there was a lot of chaos with lapped cars so I wasn't able to make up any further positions.
Brawn added: "We made all the right strategy calls today which enabled us to make up several places on cars ahead of us on the grid. It's good to have two cars scoring points but obviously we are not finishing where we would like to."