Newey celebrates Red Bull's title
| | |
| --- | --- |
| By Simon Strang | Sunday, November 7th 2010, 18:23 GMT |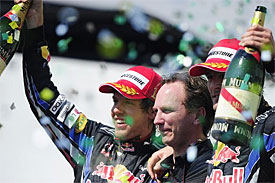 Red Bull's chief technical officer Adrian Newey says it feels amazing to have played a part in the team's first constructors' championship, but admitted that doubts had begun to creep in when it failed to score in Korea.
Sebastian Vettel and Mark Webber completed a 1-2 finish in Brazil to secure the teams' championship, 48 points clear of its nearest rivals McLaren.
"We had a good car last year but we weren't quite quick enough with the double diffuser at the beginning of the year," explained Newey. "This year has been the car has been quick but we have had a lot of problems, be it mechanical or whatever.
"We have thrown away a lot of points. I kind of started to lose confidence after Korea, which has to be one of my all time worst races."
But Newey, whose cars won titles with Williams and McLaren over the past two decades, said that winning a title with Red Bull having been so instrumental to the team's rise to prominence was particularly satisfying.
"This is amazing, to have done it with this team," he said. "To be with it from near the start and for us to have jointly built the team up to win the Constructors' Championship is a fantastic achievement for all the team in Milton Keynes.
"It was obviously the aspiration [to win the championship] but I wasn't so sure we could actually achieve it [when I joined]. Certainly the team didn't have the infrastructure of the big ones. When I joined Williams, and then McLaren, I was very lucky the teams had the infrastructure and you could just go about designing the car.
"Here it's been a bigger task, building everything up, getting the operation together and everybody in Milton Keynes has risen to that task fantastically.
"Peter Prodromou and Rob Marshall need a special thanks for their efforts as head aerodynamicist and chief designer. They have made an enormous contribution to the car. But it is getting everybody to gel, and it sounds corny, but it is about getting the team to work as a cohesive unit."