Alonso: Title fight still wide open
| | |
| --- | --- |
| By Jonathan Noble and Matt Beer | Sunday, November 7th 2010, 18:09 GMT |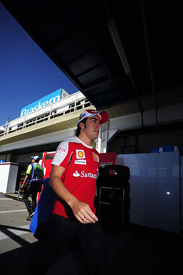 Fernando Alonso feels he is still in for a 'stressful' weekend in Abu Dhabi despite minimising the damage to his world championship lead by finishing only one place behind Mark Webber in Brazil.
Red Bull dominated the Interlagos race, but Alonso's third place behind Sebastian Vettel and Webber means the Australian remains eight points behind the Spaniard going into the Yas Marina event. Vettel's victory brings him to within 15 points of Alonso.
Although that result gives Alonso a little breathing space for the finale, he reckons the title fight is wide open.
"I need second place if Mark wins to be champion, a fifth if Seb wins so we see what happens," said Alonso.
"We saw today very easily how things can change, with safety cars, some things change and others not. If you make the wrong decision at the wrong moment you can be eighth or ninth and the title can be over.
"It is going to be a stressful weekend for all of us, but this is F1 and anything can happen next weekend. We all start from zero and we'll see who does a better job in seven days' time."
Alonso felt he might have been able to stay with the Red Bulls in Brazil had he not lost time overtaking Lewis Hamilton and Nico Hulkenberg during the opening laps of the race.
"I think we lost in the first laps of the race trying to overtaking Hamilton and Hulkenberg," said the Ferrari driver. "Those 10-12 seconds we lost were impossible to catch, we were maybe one-two tenths faster some laps so when you lose 12 seconds it is over.
"We had a chance when the safety car was out but we found ourselves in the wrong position with so many [lapped] cars between Mark and us, to pass these seven cars the gap was six, seven seconds.
"Overall it was a good race for us - being on the podium, overtaking Hamilton and Hulkenberg... We knew it was not an easy thing to do but in terms of points we are extremely happy."