Stewart: Hulkenberg future not in doubt
| | |
| --- | --- |
| By Jonathan Noble | Sunday, November 7th 2010, 11:34 GMT |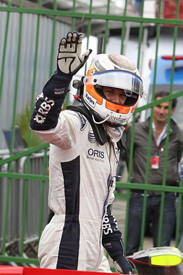 Nico Hulkenberg will have no problems in securing his Formula 1 future after his maiden pole position, reckons Jackie Stewart, who thinks that the biggest danger now is actually that Williams ends up losing him.
Williams is stalling on signing Hulkenberg to a fresh contract for 2011 as it weighs up the benefits of taking pay-driver Pastor Maldonado for next year in a bid to boost its budget.
The final decision on that front will be taken after Maldonado tests for Williams in the post-season Abu Dhabi young driver test.
But Stewart, who is an ambassador for Williams' current sponsor RBS so knows the outfit and Hulkenberg well, reckons it is not the young German who faces the biggest issues in the next few weeks.
When asked by AUTOSPORT about the Hulkenberg driver situation, Stewart said: "I would be very surprised if he is not taken. The biggest chance he has now is of being grabbed by a more affluent team, not the risk of not having a drive.
"He is never going to be without a job. I think even already this year he has proved himself. He has made some mistakes but that is the same as any young puppy does. Puppies, you try to train them and you think you have got them trained and then they pee on the floor again. It is a process of doing that.
"My view of it is that we have got somebody who here in Brazil has demonstrated that he has got all the skills capable of doing the job."
Williams is already understood to have agreed terms with Rubens Barrichello for next year, but wants to wait until it has finalised its second driver before announcing its line-up for 2011.
Patrick Head, the team co-owner, said that there would be no change to its current planned decision timeframe because of Hulkenberg's form.
"As I have said very much before, we are not making any statement about that until after the season, and if we have nasty things to tell people I will let Adam Parr do it," he said.
The speed of Hulkenberg has even fuelled speculation that it is Barrichello who could lose his seat - but the Brazilian made it clear in Brazil he was not worried about the situation.
"You need to ask Frank [Williams] about drivers," said Barrichello. "I don't know what the situation is with the team, but even here we have talked about next year's car so there is no reason to think that I am out.
"All I can say to you is that I hope Nico stays, as he is a good guy and really, really good."