Hamlin: Pressure is on Johnson
| | |
| --- | --- |
| By Diego Mejia | Saturday, November 6th 2010, 19:59 GMT |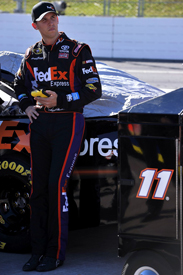 Denny Hamlin claims the pressure is on Jimmie Johnson to defend his Chase lead and his current champion status as the three-way battle for the title starts unfolding at Texas this weekend.
The Joe Gibbs Racing driver is currently second in the Sprint Cup standings heading into Texas, where he won earlier this year only a couple of weeks after getting surgery on his left knee for a torn ligament.
While Johnson has said he is not necessarily under more pressure in the tight championship battle, Hamlin doesn't believe that to be the case, although he doesn't expect his rival to take a conservative approach in the last three events.
"I think [the pressure] is on him to protect," said Hamlin about the Hendrick driver. "He's not going to race like he has to protect, we know that. He's got to look in his mirror for two different guys and both of the teams that he's going to look in the rear view mirror at have won races this year, have shown they have the speed and what not to keep up with him
"...I definitely think that it's tougher to be the one that's being chased versus chasing."
The 29-year-old has a best finish of third in the standings, a result he achieved in his rookie year back in 2006. Although he currently enjoys his best shot at becoming champion, having won seven races thus far this year, he claims he still has age on his side to win a title later if he doesn't achieve it this year.
"I have a few good years left to get it done if we don't this year," said Hamlin. "For me, I feel like if we got the championship this year, it would be sooner than what I'd expect and probably younger in age than what I would expect. It's simply because I hadn't been running in the Cup Series -- this is my fifth year -- I was running Late Models six years ago.
"I didn't have years and years of Nationwide Series experience and things like that, that a lot of guys had before they got to the Cup Series level. I am still relatively new to this ...There's no sense of urgency that I need to get it done this year because I feel like the best is still probably yet to come as far as my potential."
Hamlin hopes to be able to cut back on Johnson's lead on Sunday as he expects next weekend's race at Phoenix to suit the reigning champion. After that, he plans to be within striking distance of winning the championship in the season-finale at Homestead where he won last year.
"It starts this weekend," Hamlin said. "I know this is going to be a big weekend for us. We need to gain points this weekend. Phoenix next weekend is a good track for Jimmie [Johnson] and obviously our record is a little bit better than his at Homestead, but when he has a run at Homestead he can probably run as good as we can. We know where we need to make up points is this weekend."
Hamlin starts Sunday's race at Texas from 30th on the grid, while Harvick will see the green flag wave from 26th behind Johnson's 17th place in the order.