Q & A: Pirelli boss Paul Hembery
| | |
| --- | --- |
| By Jonathan Noble and Dieter Rencken | Saturday, November 6th 2010, 14:35 GMT |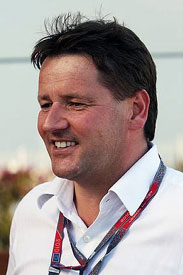 Q. How has the early testing of the new Pirelli Formula 1 tyres gone?
Paul Hembery: You are probably going to say I am bound to say this, even if we'd had a bad time, but the genuine response is that it has gone very, very well. We've had certainly no issues with tyre integrity or failure, zero, and we have done 7000 kilometres now.

We've had three different Formula 1 drivers try the tyres and all have said to us that if we had to have a race tomorrow, we could do it. I am not going to suggest that we're going to stop learning because that would be completely wrong, as we will learn a lot more. We certainly have the hard, the medium and the soft compound sorted out.

In terms of the tyre structure, we have done a bit more work on the rear tyre in the last session to bring it up a level. As you can imagine, we have to balance the front and rear tyres. It sounds ridiculous, but the drivers will either say the front is weak or the rear is strong, or vice versa. In reality, that may be true but when you improve one or the other, it makes it the other way around. So that is a balancing act, as you are almost chasing yourself in a circle. But the work we have done we are very happy with, and we will see in 10 days time.

Q. How close are you now to the definitive 2011 tyre?
PH: I can imagine we would want to evolve the tyre during the season. We have mentioned this to the teams because it would be naive of us, with the testing we have done, to think we're not going to learn something during the season. So we have said to the teams that there might be an occasion where, mid-season, we might want to have an occasion, like a first practice, to try a new compound.

I don't want us to be too conservative but there is a tendency when you are going a little bit into the unknown. We are not looking for outright performance, although ultimately we are doing that because we want to continue developing the product. We are not just going to put the tyres down, do the season and then forget it.

We are actually going to be doing a parallel development programme, probably with the Toyota, where we are looking at technology, performance and innovative materials. Some of that we might apply to the F1 events, some of which we might just do to keep the knowledge and knowhow for the background.

Q. The tyres that are going to be used for the two-day Abu Dhabi test, how close will they be to the tyres that will be used for the start of the season?
PH: We only have one more test session after Abu Dhabi. We are going to Bahrain for a four-day session in the middle of December, and that will be our final specification. There will be two drivers - which should be Pedro de la Rosa and Romain Grosjean - and that will be our last opportunity before pre-season testing begins on February 3.

Q. How well has your co-operation with Toyota gone?
PH: Toyota has been absolutely brilliant. It has been very organised, very professional, and has provided us with all the data from the vehicle that we have needed. That co-operation has enabled us to fast-track our development, as you have to remember it's only three months ago we started this project. I don't think there are too many companies that could develop an F1 tyre in three months. We have had to rely on the quality of the drivers and the quality of the cars we have used.

Q. Pace-wise and tyre characteristic wise, have you got any idea how you compare to the current generation of Bridgestone tyres?
PH: That is a bit tough because we have a car that is a year out of date. We have tried to do the weight distribution so it matches the current cars, but we don't know where the current cars are with aerodynamics compared to the car that we are using. We are running with 80 kilogrammes of fuel so we have tried to simulate a relatively high fuel load, but it is obviously not as heavy as the current cars when they start.

We know that when the move to the new narrower front tyre occurred this season, some teams ended up struggling a little bit with it. We were conscious of that when we did our design and tried to make our front tyre a little bit more robust. But where are next year's cars going to be compared to that? So we are a little bit into the unknown, but we will test in Abu Dhabi on this year's cars.

In terms of compounding, we've had very few issues of graining and things like that, which a number of teams have mentioned to us to be careful of - particularly when testing at Paul Ricard. But we have not tested in extreme heat, which is why Abu Dhabi and then the Bahrain test afterwards will be very important for us. We need to get some serious heat in there.

We have also been limited by track availability, as you can imagine. It is bizarre that we have been in a recession but every track seems to be booked up forever these days.

Q. What about your own test facility?
PH: We have a small track that is good for normal road cars, but you could not test an F1 car there.

Q. In terms of wet weather preparation, what have you been able to do?
PH: We are at Paul Ricard on Monday and Tuesday next week, but it is rather difficult because F1 is quite unique - you can get wet weather in different temperatures. You can have the classical Spa or Silverstone where it is 10-15 degrees Centigrade wet, or you can have a Malaysian shower at 30 degrees. So that means the working range of the compounds has to be quite extreme. That is something that is probably quite hard for us to simulate, but we are getting there. If there is an area that we have to work on more, it is probably there.

Q. Have you travelled around taking track surface samples from a chemical grip point of view?
PH: We have some surface samples, and some of it from previous racing that we have done on these circuits. That will be something that we will learn and carry on next year, with laser scanning of surfaces to pick up some more information. But what we don't know is how the track changes during the weekend.
As you know, F1 – the guys can be flying on a Friday and then with the same set-up on a Saturday it doesn't work at all. It is one of the mysteries of motorsport – what has happened overnight? That is to do with temperature, humidity, what compounds have been laid onto the track and how it affects performance. There are a lot of variables and those are what we need to learn.

Q. In Abu Dhabi, what will be the format in terms of how many tyres are available to each driver and team?
PH: There are four sets per day, split between a soft and medium compound – and perhaps we might look at the hard compound. The teams can then choose how they want to run those.

People are asking what we expect from Abu Dhabi, and I think we will get a mixed bag. There will be some people who will go 'fantastic', and some will go 'we cannot get the tyres to work'. And then there will be some who probably don't know what they have got in their hands.
The track will have had four or five days running on a competitors' product, so the surface will be completely coated with another compound – which from a tyre maker's point of view, if there has been a race meeting the weekend before you get there, you probably spend a day cleaning the track. Then on day two it can drop by 1-1.5 seconds quite quickly just by getting your own rubber down on the track.

Q. From a cost perspective, will you be shipping your tyres to the first events by sea freight? What is your lock down date then?
PH: We are going to be air freighting for the first five or six races of this season to give ourselves as much time as possible to make any changes. We have had that really intensive test period pre-season for four weeks and I cannot imagine us not finding information or knowledge during that period where we would not want to make changes to our product.

The difficulty with the teams is managing that because they will want something very much fixed. And we will have to have discussions with them, because we have seen this and we would like to make these changes.

Q. This year we have seen races like Bahrain that have had conservative tyre choices and produced boring events, then races like Canada that were more on the edge and were thrillers. What is your approach going to be?
PH: We would like to take an aggressive approach. Certainly when we have been working with GP2 and F1, they have said they would like us to take an aggressive approach.

It would be better from a tyre maker's point of view to take a conservative approach, so people then do not talk about the drop off of the tyres. But from a sporting perspective, and for the show, we probably want both these tyre choices to have decay because what happens at the moment is that you have one aggressive choice and one stable choice, which means everyone ends up with the same strategy.

If you have two tyre choices and they are quite aggressive, then teams and drivers have to start thinking about when to use them and how to use them. That is obviously what happened in Canada.

But the drivers and some of the team members would have to buy into that, because there is no point of doing it if the driver just comes out and says the tyres are rubbish – because then we will just go back and give them a tyre that is the same for 50 laps, which we can do.

Q. Have you been pushing that message to the teams and drivers?
PH: That will be during the February period. We will see where we are and see how much they want to go with that. We are in their hands. We want to assist the show because Formula 1 is entertainment and we realise that we can have a part to play in that.

Q. You have been quite clear from the start that you wanted to treat all teams equally, so there would be no favouritism. FOTA has agreed an information sharing philosophy – so how is that working with you?
PH: We asked FOTA to decide what they wanted us to do. It got to the point where the top teams would prefer to be asking us for information on an exclusive basis – not because we would give them an advantage, because we said that every team could ask for what they wanted and we would give it to them. But the top teams said that if we make a request that is seen by everybody, then we are giving away our know-how to the lesser teams – so we could see if from both points of view.

So in the end we said to them, you decide what you want and we will do either – either you make one request and we give everything to everyone, or we will work on an exclusive basis. They came back with that – so everybody gets the same. That is a much easier way for us because now the top teams probably won't ask the questions and will probably do their own testing, and will buy their own machines if they want. It is a bit stupid from that point of view, but if that is the way the teams feel then that is the way it is.