No pressure on Ferrari, says Alonso
| | |
| --- | --- |
| By Jonathan Noble and Matt Beer | Friday, November 5th 2010, 18:57 GMT |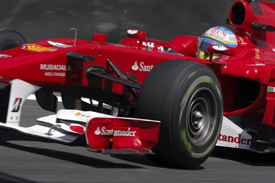 Fernando Alonso says the Ferrari team is feeling no pressure going into this weekend's Brazilian Grand Prix, even though he could potentially clinch the title at Interlagos.
Alonso holds an 11-point lead over Mark Webber with two races to go, with the other three title contenders all at least 20 points adrift, and reckons the championship is now a question of 'destiny or luck'.
"I think I am relaxed because it is Friday. On Sunday I will be more stressed for sure, but I think there is very little we can do in terms of being super motivated or super excited or relaxed, because the speed of the car is what it is at the moment," said Alonso.
"I think upgrades or developments to the car will be very few between now and Abu Dhabi, or none at all. All the cards are on the table, we just need to play it better and see what the result is.
"Whether we win the championship or lose the championship, it will not be because of the effort we put in the car or our abilities at that point.
"It will be more a factor of destiny, or luck - because there are very little points between us, and close performance between the cars, so we will do all of the five the best we can and we will see what the results are."
The double champion had to park his car near the end of first practice when his engine reached the end of its life, but played down the issue.
"This morning the programme was already to change the engine between the two sessions, we used a very, very old engine this morning, we missed that change for three laps, it was only three more laps to go to have everything still according to plan, and fingers crossed there are plenty of engines to use between now and Abu Dhabi," said Alonso.
He was also calm about main rival Red Bull taking a one-two in both practice sessions today. Alonso was third behind Sebastian Vettel and Mark Webber this afternoon.
"I think it is difficult to evaluate normally the Friday times because it goes up and down depending on which moment you look at the times, and for the moment Red Bull Racing is still very competitive so it seems another strong weekend for them," said Alonso. "It seems we can fight with McLaren to be the first ones to be behind Red Bull and put Red Bull in problems, and we will see.
"For us it is important to be as close as we can to Red Bull to fight for pole position. We did it in Singapore, which on Friday it seems that they were very competitive and on Saturday we managed to be on pole, so hopefully tomorrow we can do that as well.
"But also it is important for us to be away from Williams, from Renault that sometimes is competitive, like at Suzuka where [Robert] Kubica started third and we started fifth, so we need to avoid also these cars around. Overall I think we can be confident for this weekend."
Alonso's team-mate Felipe Massa also stopped on track today, parking in the afternoon session with a clutch issue.
"I was going out from Turn 2, going out on the kerb, I touched a bit of bump on the kerb and suddenly the clutch opened, so no gears, and then I had to stop because I couldn't come back," said the Brazilian.
""We don't know yet if it was an electronic problem with the touch on the kerb. It was a little bit strange. It was something that I've never had."