Horner hits back at Domenicali
| | |
| --- | --- |
| By Jonathan Noble | Friday, November 5th 2010, 13:09 GMT |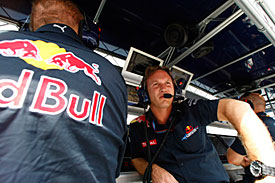 Red Bull Racing team principal Christian Horner has hit back at comments from Ferrari that the Italian team would have wrapped up this year's title ages ago if it had had the level of car performance enjoyed by Mark Webber and Sebastian Vettel this season.
Although Red Bull Racing has taken 14 pole positions this season, it is Ferrari's Fernando Alonso who leads the championship ahead of the final two rounds of the campaign.
And Domenicali was quoted in the German media this week saying that it was a 'miracle' Red Bull was not champion already, as Ferrari would have won the titles a while ago if it had been so quick.
When asked for his response to Domenicali's comments, Horner said: "If I had had an engine like his then we would have walked away with it - it is one of those things."
Although Red Bull Racing could yet walk away from the season without a world championship title to its name, Horner thinks his outfit has plenty to be happy about with what it has done this year.
"I think we forget what a great year it has been for this team," he explained. "We've won seven grands prix, which is more than any other team, we've had 14 pole positions and we have won Monaco, won Silverstone, and had three 1-2 finishes.
"So it has been a fantastic year for a team that is fighting with McLaren and Ferrari. We have two fiercely competitive drivers who obviously have their own characters and own personalities.
"From a team point of view I think we have delivered very well this year. Strategically the team has been very sharp, and we have had a very fast car. From the technical point of view, from a chassis point of view, we have been one of the most reliable, if not the most reliable in the pit lane.
"We have had a couple of engine issues but so have other teams - and ultimately the driver that wins is the driver that has thrown together the best sequence of results. We have done our best to provide both drivers with great cars, they have made great use of it throughout the year and both of them, with two races to go are still very much in this championship."
When asked what was more important for the team - winning the constructors' or the drivers' title - Horner said: "Inevitably for the team the constructors' is where they are measured against their peers in the pit ane.
"From the team point of view, the constructors' is the one that is held most closely to people's hearts. But to the public and prestige wise, the drivers' is what attaches the most prestige to it. In different ways within the team they have an equal value."