| | |
| --- | --- |
| Stoner eager to leave Ducati with win | |
| | |
| --- | --- |
| By Toby Moody and Matt Beer | Thursday, November 4th 2010, 16:06 GMT |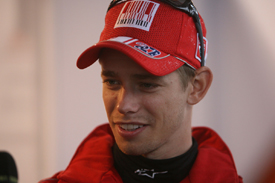 Casey Stoner says he does not expect to get emotional about his final race with Ducati until afterwards, and just hopes he can bow out with a victory at Valencia.
The 2007 world champion moves to Honda next season after four seasons with Ducati.
He said the parting was an amicable one, and that he was determined to leave on a high.
"It won't be until after the race that all the emotions are going to hit us," said Stoner. "It's going to be a little bit strange, I suppose, coming into race day, but I'm still going out there to win.
"Since we've been out of the championship running this year, I may be criticised for it, but I've just been going out there to win races, I haven't been going out there to score points. I don't really mind about coming third or fourth or fifth in the championship - I'm out there to win, and that's what I've been trying to do.
"I think at this last one we've got a really good chance to win and that's the best thing I can do for them. I've appreciated all my time with them. I think we've had a great relationship, and I still do with everyone, Filippo [Preziosi] especially.
"It was a more difficult moment when we made the decision to switch than the actual switch is going to be. We've had all year to really get over it and just focus on the season at hand. But for sure after this last race that's probably when it will be a little sad in some ways but exciting in others."
He said that the highlights of his Ducati sojourn had been both his '07 title success - in only his second MotoGP season - but also the times when the team had defied its critics.
"Each year when we're counted down and out, and people have forgotten about us, and then we come back and sort of surprise everyone and we're still there - every year we seem to surprise everyone, which is a surprise to me," Stoner said.
"That's always a nice feeling, when we're able to come back from the dead basically, when nobody expects us to challenge for anything. 2008 was the perfect example of that."
But he admitted to some disappointment that often Ducati's surges in form had come after the title was out of reach.
"It's always too late, unfortunately," said Stoner. "We don't have a lot of development to work with or anything like that, so we have to work with what we've got on the bike, and with the lack of testing and lack of track time, it's difficult.
"It did hamper us a bit this year, but at the same time it's the same for everybody. We just took that little bit too long each season to really get up and running."
Stoner's current crew will move to Honda with him, which he said was both personally important and would ensure he got up to speed quicker than if he had to build new relationships at Honda.
"They're my guys, they're my family," said Stoner of his mechanics. "I know that they'd follow me through volcanoes and everything. I love them as much as they love me and we've become such a family in there that there was really no question that we'd separate. I've had a great four years with them and didn't want it to end with Ducati.
"I guess over the years riders have created more and more power for themselves, and more bargaining power, so they've had the option to take their teams along.
"Also these days it's especially important given the amount of track time we get compared to what they used to. It's so critical to get a set-up on these machines, you can't just brake an extra 50 metres later and make up a heap of ground. With a team that knows you and a team you're comfortable with surrounding you, it makes things a lot easier."