FIA's Craw pleased with Austin plans
| | |
| --- | --- |
| | Wednesday, November 3rd 2010, 13:59 GMT |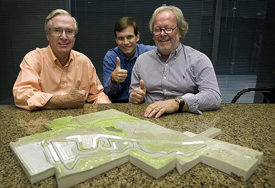 FIA senate president Nick Craw has given the new United States Grand Prix venue in Austin his support after visiting the track and talking with local council chiefs.
The purpose-built Texas venue is set to join the calendar from 2012.
"It will be great," said Craw. "This has some of the most interesting, exciting and different features, drawn from other successful venues around the world.
"It is a very strong team they've assembled here, I think it's a very good plan and a very solid business model. They've set the bar pretty high."
Craw also indicated that he would lobby against any moves to reinstate a strict 90-day inspection rule for new tracks. The recent Korean Grand Prix was able to go ahead despite the FIA postponing its final approval of the Yeongam track until less than two weeks before the race.
US GP promoter Tavo Hellmund admitted that it would be tough to have the Austin track ready for a definitive inspection 90 days before the race date, and feels that enforcing this would be unfair on his event.
"While we would love to have the luxury of having a completed track 90 days in advance of the event date, the schedule - much like the construction schedule for the last five grand prix track developments and races added to the schedule - will potentially not afford us this opportunity," said Hellmund.
"All of these events have been successful in their own right and it wouldn't make sense to invoke a 90-day mandate now, that would affect only one track in the world - ours."