Ex-Toyota F1 team happy with new life
| | |
| --- | --- |
| By Matt Beer | Wednesday, November 3rd 2010, 10:23 GMT |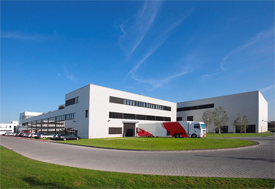 Toyota Motorsport GmbH (TMG) says it is delighted with the success of its transformation into an engineering business since the company's departure from Formula 1, which was announced a year ago today.
The motorsport facility was not disbanded when Toyota pulled its works team out of F1, and has since diversified into commissions varying from providing a car for Pirelli's F1 tyre development tests, to new electric racing cars and a large number of high-tech projects for the automotive industry.
"This has been a breakthrough year for us," said Jens Marquardt, TMG's general manager business development in the company's annual review.
"We faced many challenges in November 2009 when our F1 participation ended but we met them with courage and optimism. Now our hard work is delivering results, so we can look back with satisfaction on the last 12 months."
Pascal Vasselon also stayed on at TMG in his role as general manager of chassis engineering. He said the company had proved that F1 skills and technologies could be easily transferred to non-motorsport applications.
"The legacy from our Formula 1 participation is a facility equipped with all the automotive development tools imaginable and a highly-skilled group of engineers to make the most of them," said Vasselon.
"It's incredible to see the reaction of experienced engineers when they first visit our facilities and understand the processes we have in place.
"I think there is a belief that F1 engineering is a very narrow specialisation. But our customers are hugely impressed to learn about the breadth of our engineering expertise and the variety of equipment available."