Ferrari plans 'very careful' approach
| | |
| --- | --- |
| By Pablo Elizalde | Tuesday, November 2nd 2010, 09:56 GMT |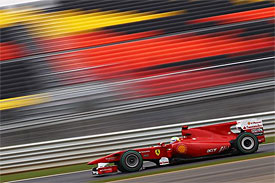 Ferrari boss Stefano Domenicali says his team has to be "very careful" in the final two races of the season in order to continue with its successful run of results.
The Italian squad's Spanish driver Fernando Alonso is leading the championship following his win in Korea, the two-time champion 11 points in front of Red Bull's Mark Webber.
Domenicali admitted it was very hard to predict what will happen at this weekend's Brazilian Grand Prix, where Alonso is the only man who could clinch the title.
The Italian team boss said, however, that Ferrari must remain focused and be sure not to lose any points that coult hurt their chances.
"It is unlikely to decide the outcome, but it will be a very important race. If one were to lose valuable points here it would make Abu Dhabi a bigger call," said Domenicali.
"The approach the team will adopt in these final weeks of the championship will be the right one, keeping in mind the strengths of our rivals, Red Bull and McLaren. We have seen how complicated the races have been throughout the season, which means we have to be very careful.
"As far as the F10 is concerned, there will be a few small updates on the aerodynamic front, but nothing really significant, because the difference will come from reliability, from finishing the races without losing points and having the right mindset.
"However, I think the F10 can be competitive in Brazil and that, for better or for worse, the relative strengths are those we have seen in the last few races. We can expect to find that Red Bull is again very strong, while McLaren could have some more updates to be quicker still and we will be in the fight."
Domenicali also said he expects Felipe Massa to be very strong in his home race, thus boosting Ferrari's chances in the championships.
"Brazil is Felipe's home race and knowing him the way I do, I am sure there will be that little bit extra motivation to do well," he said. "He will want to show his fans what he can do so I expect him to be very much up for the fight, doing all he can to win. He will be very quick, which is exactly what we need right now to reach our goals."
Alonso insisted he will not be changing his approach in Brazil.
"We will tackle this round with the same spirit in which we went into the last few races, which means concentrating on our own work, determined to make the most of every opportunity, aware that the totting up will be done in Abu Dhabi after the final race," said the Spaniard.
"The track is very interesting and usually produces a spectacular race. The weather, which can be very changeable, could play an important role and we will have to be ready for any eventuality. With such a short and quick track, the gaps will be reduced and there will be a lot of drivers all within a few tenths."