Paffett beats title rivals to Adria pole
| | |
| --- | --- |
| By Glenn Freeman | Saturday, October 30th 2010, 12:58 GMT |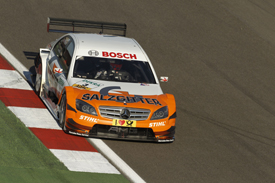 Title outsider Gary Paffett took pole position in a very tight DTM qualifying session at Adria.
The Briton ran first in the pole position deciding Q4 session and watched on as all three of his challengers - Jamie Green, Mattias Ekstrom and Bruno Spengler - held an advantage over him after the first two sectors of the lap.
However, none of the trio could respond to the 2005 champion's final sector. Spengler, who was 0.016 seconds up at split two, finished the lap just 0.010 slower than Paffett.
Ekstrom completed his lap 0.089 adrift, while Green, who was fastest of all four in sector one, lost out badly at the end of the lap and had to settle for fourth.
Ekstrom initially thought he was out of qualifying after Q1, when he was bumped by Audi team-mate Timo Scheider in the dying seconds. But Scheider's time was taken away when the officials deemed that he had started his lap just after the chequered flag came out.
A furious Scheider refused to get out of his car at first. When his team told him that he was definitely out, he launched his steering wheel out of the car and stormed into the back of the garage.
Behind the top four, Mike Rockenfeller was best of the rest in fifth, just ahead of championship leader Paul di Resta. The Scot narrowly made it into Q3 by just 0.085 seconds from Martin Tomczyk, but he was unable to join title rivals Paffett and Spengler in Q4 and aborted his final lap.
Oliver Jarvis and Miguel Molina made the fourth row an all-Audi affair, followed up by Tomczyk and Winkelhock in two more A4s to complete the top 10.
Pos  Driver             Car       Q1         Q2         Q3         Q4
 1.  Gary Paffett       Mercedes  1m10.618s  1m10.120s  1m10.212s  1m10.471s
 2.  Bruno Spengler     Mercedes  1m10.568s  1m10.170s  1m10.069s  1m10.481s
 3.  Mattias Ekstrom    Audi      1m10.915s  1m09.998s  1m10.149s  1m10.560s
 4.  Jamie Green        Mercedes  1m10.831s  1m09.898s  1m10.156s  1m10.700s
 5.  Mike Rockenfeller  Audi      1m10.617s  1m10.253s  1m10.271s
 6.  Paul di Resta      Mercedes  1m10.338s  1m10.285s  1m10.309s
 7.  Oliver Jarvis      Audi      1m10.788s  1m10.130s  1m10.349s
 8.  Miguel Molina      Audi      1m10.732s  1m10.218s  1m10.431s
 9.  Martin Tomczyk     Audi      1m10.852s  1m10.371s
10.  Markus Winkelhock  Audi      1m10.733s  1m10.464s
11.  Alexandre Premat   Audi      1m10.781s  1m10.466s
12.  Maro Engel         Mercedes  1m10.882s  1m10.666s
13.  Susie Stoddart     Mercedes  1m10.881s  1m10.903s
14.  Ralf Schumacher    Mercedes  1m10.890s  1m10.975s
15.  Timo Scheider      Audi      1m10.983s
16.  David Coulthard    Mercedes  1m11.082s
17.  Cong Fu Cheng      Mercedes  1m11.083s
18.  Katherine Legge    Audi      1m11.269s