| | |
| --- | --- |
| Pedrosa pleased with fitness in practice | |
| | |
| --- | --- |
| By Matt Beer | Friday, October 29th 2010, 15:55 GMT |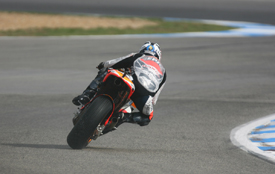 Dani Pedrosa says he was highly encouraged by his condition during practice at Estoril today, and feels he has made a big step forward in his recovery from his collarbone injury since Australia.
The Spaniard had to pull out of the Phillip Island event two weeks ago when it became clear that he was still suffering too much from the broken collarbone he had sustained at Motegi.
But he had no such problems in the rain-affected practice in Portugal this afternoon and is optimistic about the rest of the weekend.
"Straight away I felt much better on the bike here than I did in Australia and the shoulder has recovered a lot, which is very positive," Pedrosa said. "I feel a little bit tired now, but basically I feel okay after riding today."
Although Pedrosa was only 13th on the timesheets, he said he had been very conservative today.
"To be honest I didn't feel totally at home on the bike today but I think this is normal after so long without riding, and this situation will improve," he said.
"Usually when you ride in wet conditions you take it easy and this was especially true for me today because I certainly didn't want to take any unnecessary risks. It was good to be on the bike again and to see that I can ride more or less normally."
Pedrosa's team-mate Andrea Dovizioso crashed during the afternoon session at Estoril, but was unhurt.
"Everything was going quite well in the session and we were making progress and finding the best set-up for the track in these difficult conditions," he said.
"I was on a fast lap when I made a mistake at Turn 8 and I had to brake on the white line at the edge of the track, and I crashed. Fortunately I wasn't injured which is the important thing, but this cost us time and prevented us from being further up the timesheets.
"We need to make some more improvements to the set-up of the machine and the electronics for these conditions - and this is really important at this track because Estoril is quite tight and you need to manage the power really well. So we are not as close to the front as we need to be, but we have a lot of potential to improve from here and we know the areas where we have to work."