DuPont extends Gordon's relationship
| | |
| --- | --- |
| By Diego Mejia | Thursday, October 28th 2010, 16:02 GMT |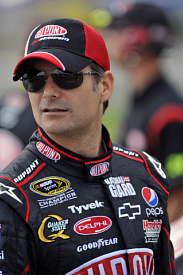 Despite scaling back on their sponsorship of Jeff Gordon and Hendrick Motorsports, DuPont announced on Thursday a new three-year deal with the four-time champion.
DuPont, one of the companies with the longest standing relationships with Hendrick Motorsports and also the longest association with a current Sprint Cup series driver, will feature as the main sponsor of the #24 Chevrolet in 14 races per season for the next three years.
On Wednesday the team announced a three-year deal with the AARP Foundation and its "Drive To End Hunger" campaign, which will feature as the main sponsor of Gordon's car in the majority of events starting next year. Pepsi will take the main role in two races from next year.
"I can't remember what it was like to race without DuPont on board," said Gordon. "We've had such an incredible ride together, and I've learned so much about how DuPont applies science and innovation to make a positive difference in the world. It means a lot to me to keep it going for at least another three seasons.
"DuPont has supported me throughout my Cup career, and I feel like we have more wins and championships ahead."
On November 2012 season DuPont and Gordon will celebrate the 20th anniversary of their first races together, which marked the debut for both at NASCAR's top level at Atlanta Motor Speedway.
"They took a leap of faith by sponsoring Jeff and the No. 24 team back in 1992, and the relationship has been unbelievable ever since," said Rick Hendrick. "They are terrific people, and it's extremely gratifying to continue into our 19th full season together [in 2011]."
Gordon has won four championships carrying the company's logos, which will still feature on his car in every race for the next three years, even when AARP is the main sponsor.
DuPont, a science-based products and services company, has one of the most unique marketing strategies in the sport given its business-to-business model.