Horner: Both drivers still in title race
| | |
| --- | --- |
| By Matt Beer | Wednesday, October 27th 2010, 16:27 GMT |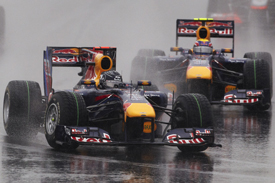 Red Bull Racing boss Christian Horner has declared it is still too early for the team to throw its full weight behind Mark Webber in the title chase and will continue to give Sebastian Vettel an equal shot at becoming world champion.
After both Red Bulls retired in Korea - Webber following a crash and Vettel with an engine failure while leading - the duo now trail new points leader Fernando Alonso by 11 and 25 points respectively with two rounds to go.
That situation had led to suggestions that Red Bull would have to ask Vettel to act as Webber's number two in Brazil and Abu Dhabi to give the Australian the best possible chance of overhauling Alonso, and Horner acknowledged after the race in Korea that the possibility of giving Webber priority was "something that we will look at pretty closely between now and Brazil."
But he has now decided that with this season having featured so many ups and downs already, it would not be correct to rule out Vettel's title chances and make him support Webber, despite the German's points deficit.
"We have two fantastic drivers and we will continue to support both equally in line with Red Bull's credible sporting ethos," said Horner in an interview with Red Bull's official website.
"As we saw in Korea it is impossible to predict what will happen with five drivers being so closely in contention. For example, with 10 laps to go Sebastian had moved into the lead of the championship, with Alonso then moving into the lead following our bad luck.
"It just goes to show that situations can change very quickly. Ultimately as we now approach the end of the championship, the mathematics will speak for themselves and I'm certain that both drivers will do everything possible to achieve the best result for the team."
He added that Red Bull could still take a lot of encouragement from Korea despite ultimately failing to score.
"It was a track that people predicted wouldn't suit Red Bull, yet we qualified first and second and we allayed any doubts about the performance of our car in wet conditions," said Horner.
"The strategy and pitstop on Sunday were spot on and Sebastian was doing an excellent job of managing the race from the front. The result was disappointing; it was gracious of Renault to publicly apologise, but as a team we win together and lose together and will bounce back strongly in Brazil."