Brawn says Mercedes is 'getting there'
| | |
| --- | --- |
| By Jonathan Noble | Tuesday, October 26th 2010, 10:54 GMT |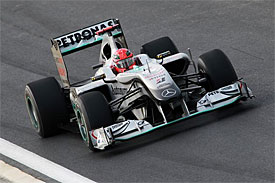 Ross Brawn believes that his Mercedes GP team is finally starting to see the fruits of its labours to improve its car and structure this year after another strong showing in the Korean Grand Prix.
Although Michael Schumacher finished a strong fourth at Yeongam, the outfit could have grabbed another podium finish if Mark Webber had not taken out Nico Rosberg when he spun across the track after his early crash.
However, with the team's clever strategy of tweaking its set-up to be better for the wet under the early red flag having paid off, Brawn has said he is encouraged by the progress the outfit is making.
"We are getting there," said Brawn after the race. "It has probably taken a bit longer than we expected, but we keep seeing these really good bits of progress, and we are putting everything together for next year."
Mercedes GP stopped development of this year's car early on so it could focus on its 2011 challenger - but Brawn thinks improvements are still being made because the team is getting a better understanding of how to extract speed from its current machine.
"We are just getting everything working properly," said Brawn. "The F-duct is good, and we have the fastest straight-line speed now.
"We are not changing many things, just understanding how to set the car up, and it is really just consolidation, which is a lesson."
When asked if the knowledge gained this year could also be a help for 2011, Brawn said: "Maybe. I don't think things will directly translate but we have learned things from the last few races."
Brawn added that he thought Rosberg could well have finished second in Korea were it not for the Webber incident - but he did not want to waste time wondering what might have been.
"He was very happy with the car, but 'if' is Formula 1 spelt backwards, isn't it?" he explained. "I don't like to speculate. He was going very well, was comfortable with the car and could have been very strong."