Q & A with Craig Breen
| | |
| --- | --- |
| By David Evans | Monday, October 25th 2010, 10:19 GMT |
After becoming the firist Irish driver to win a place on the FIA's Pirelli Star Driver scheme, Craig Breen told AUTOSPORT how important his success in Spain was.
Q. How stressful was that?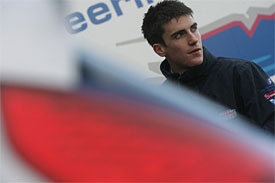 Craig Breen: It was probably the most stressful moment of my whole life. To the point that it was a massive strain for the whole weekend. But hardwork has paid off now. It's time to take the next step. This is a massive opportunity for me and I'm just thrilled and in awe of what's going to happen next year.
Q. How much do you know about the programme?
CB: It's in the WRC Acamdeny, with six rounds of the World Rally Chamnpionship in a Fiesta R2 and the training from [Robert Reid's training company] ESP that goes along with it. That's pretty much the outline. But for me, it's driving in the WRC, that's what I want. We're going to be on the world championship stage and in front of the right people, doing the right events. It's a great opportiunity.
Q. It's been an odd week for you, though: you came here off the back of the British Rally Championship Pirelli Star Driver shoot-out, which you lost to Elfyn Evans, but then won the big one here in Spain...
CB: This was the one we wanted. The British one would have been very good, but we've spent a year in the BRC and got as much as we could get out of it. We didn't win it [the BRC], but we were always on the pace. There was a bit of bad luck on our side. But this is what I wanted. We're in the right car, with the right team. I'm relishing the chance to get behind the wheel next year.
Q. Will you supplement the programme with anything else?
CB: Absolutely, that would be the plan. We're going to do some events in our own car. We're going to concentrate on the specialist surfaces: maybe a snow rally and some others. We're going to Rally GB in a couple of weeks and then we'll line up a programme for next year; we can't let this be the defining championship next year, so we'll have to do something outside - maybe some rounds of the Super 2000 World Rally Championship.
Q. You'll stick with your own Fiesta S2000 then?
CB: Yes, absolutely. It'll be great to have the six WRC rounds with the FIA's Pirelli Star Driver R2 and then some more with out own Fiesta, it's great from a Ford perspective. The cars are fantastic at the moment. There's a couple of new developments coming over the winter, so why stray away from it?