Mercedes thrilled with Schumacher
| | |
| --- | --- |
| By Matt Beer | Sunday, October 24th 2010, 10:26 GMT |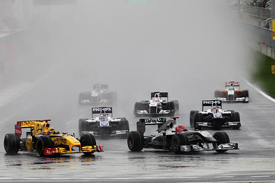 Mercedes GP team boss Ross Brawn praised Michael Schumacher's performance after the former champion equalled his best result of his comeback year with fourth in Korea.
Schumacher made good progress from ninth on the grid, passing Robert Kubica and Jenson Button on-track in the wettest conditions early on. Once up to fourth following retirements ahead, he nursed his car to the finish once it became clear that the podium was out of reach.
"The team did an excellent job this weekend and have been rewarded with a very good result for Michael today," said Brawn.
"Michael had an extremely good race. He took all of his opportunities and drove sensibly in the tricky conditions.
"We spent the latter part of the race looking after the tyres and making sure that we got through to the end as we didn't think that we could challenge the leaders. Overall a very positive weekend and we hope to finish the season with equally strong performances."
Schumacher added: "I am pretty happy with today's race and I have to say thank you to my team who guided me perfectly through the afternoon."
But Brawn admitted that the race was also a missed opportunity, as Schumacher's team-mate Nico Rosberg was taken out by Mark Webber's spinning Red Bull early on when running right behind eventual winner Fernando Alonso's Ferrari.
"It could have been even better as Nico was in a strong position and obviously we are disappointed that he was taken out of the race," said Brawn. "Nico had made a great overtaking move on [Lewis] Hamilton, he was very happy with the car and everything was going well up that point."
Rosberg, who had been very satisfied to qualify fifth yesterday, was hugely disappointed not to get the chance to build on that in the race, potentially as a podium looked likely had he finished.
"We had a near-perfect weekend with the car that we have until the collision in the race today," Rosberg said.
"Qualifying in fifth place was great yesterday and the car has felt good all weekend. The team has done a great job here and the straightline speed that we had enabled me to overtake Hamilton early in the race.
"So it's a big shame that my race was ended early. It was really difficult to judge which way Mark's car would go and I took the decision to go left but he spun more and more that way and I just couldn't avoid him. It's a real shame as we could have had a great result today."