Renault/Mercedes over wheel dramas
| | |
| --- | --- |
| By Jonathan Noble | Sunday, October 24th 2010, 03:46 GMT |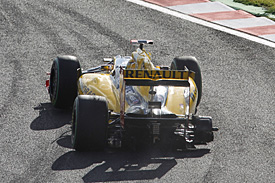 Renault and Mercedes GP are both confident that there will be no repeat of their Japanese Grand Prix wheel dramas, after discovering why they both suffered failures at Suzuka a fortnight ago.
Robert Kubica lost a near certain podium finish in Japan when his right rear wheel fell off early in the race, while Nico Rosberg crashed out late on when his left rear wheel came adrift.
Both teams launched investigations to find out exactly what had happened, and both have made modifications to equipment and procedures to ensure that the incidents cannot happen again.
Although Renault initially suspected that Kubica's failure had been caused by the wheel nut on his car having not been tightened up enough, it was subsequently found that debris lodged inside the wheel hub mechanism had been the real cause.
The unseen debris meant that the wheel retaining mechanism could not fully pop into place, and when the debris came loose at racing speed the wheel was able to work itself off. Renault has since introduced extra checks to make sure that such an incident cannot happen again.
Mercedes GP's failures were down to the wheel nut itself working loose during the long race stint that the German had done.
Team principal Ross Brawn admitted that it was hard to know the exact reasons for the failure - with the different expansion rates of the metals used in the wheel mechanism suspected to have been a contributing factor.
"It is very difficult to completely understand what happened because when something happens after 48 laps then you have to say that it was done up properly in the first place," explained Brawn.
"We have accelerometers on the wheel guns and that tells you how long the wheel gun has been done up for. So after the pit stops we can see if we have done the wheels up properly. That wheel was done up properly, but over 48 laps we lost the clamp load of that wheel.
"We have changed some materials in the assembly to different ones that we believe could improve the situation, but quite frankly the whole thing is not completely understood.
"We have also modified the retaining mechanism to try and keep the nut on if it does come loose. Interestingly several other teams had problems at the end of the race, several teams reported they had wheels that were loose, and some characteristics of the circuit caused that issue."