Ambrose concerned about RPM
| | |
| --- | --- |
| By Diego Mejia | Saturday, October 23rd 2010, 19:55 GMT |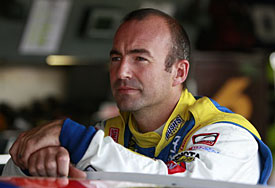 Marcos Ambrose hopes Richard Petty Motorsports can get through its financial woes within the next few weeks as he fears for the team's future, having signed a deal to drive for the team in 2011.
Speculation continues to mount regarding RPM, following the early release of Kasey Kahne from the team this week and a growing uncertainty about its funding for the rest of the season and next year.
RPM announced earlier this year that Marcos Ambrose will drive the outfit's #9 Ford in 2011, while AJ Allmendinger is signed to race the #43 car next year.
The Australian, who will start second in Sunday's Sprint Cup Series race at Martinsville, revealed he has gone through a week of uncertainty regarding his future following the news from RPM.
"My new team for 2011 is going through a rough patch," said Ambrose. "I'm fully committed to it. I hope they can get their problems fixed in the next couple of weeks, and put it all behind.
"It's just been a week of uncertainty really. It's not nice for anybody and I've got a great opportunity for 2011. I just want to make sure I get to do it."
RPM's director of competition Robbie Loomis said the team continues to look forward to 2011 despite some reports raising doubts about them seeing the season out.
"I think it's our full intention to go forward," Loomis said. "There's been a lot of speculation about a lot of things, there always has been in this sport, but what gives me confidence is that we've always had the ability to move forward. We do our best today.
"I was thinking riding up the road this morning with Dale [Inman] and I said, 'You can't look too far out in the future because today is all that we really have,' and many of you know that from being around this sport."
Loomis denied there have been any management changes in the last few weeks and said George Gillett continues to be the squad's majority owner, with Richard Petty, Boston Ventures and Ray Evernham all being minority shareholders.
Gillett has been at the centre of controversy recently after reluctantly having to sell the Liverpool Football Club, a transaction that has reportedly left losses for him and his business partner Tom Hicks.
New England Sports Venture (NESV), the new owner of the football team, also owns a stake of Roush Fenway, which has a technical partnership with RPM for chassis and engines.
The dispute between Gillett and NESV over the sale of Liverpool led to doubts about the continuity of the technical support for RPM from Roush, which led to suggestions that the team did not have cars for next weekend's race at Talladega.
However, Loomis said that RPM's cars will be at the Alabama circuit next weekend.
"The Gilletts, they've been through a lot obviously - everyone knows that," Loomis said. "They've worked really hard to be a four-car team last year and continue it this year, and now we've got to look at what our teams are going to look like going into next year."
"We'll be at Talladega. I hope we're all in Talladega. It's our full intention to keep rolling right along."