Rigon takes vital pole for Anderlecht
| | |
| --- | --- |
| By Charles Bradley | Saturday, October 23rd 2010, 13:11 GMT |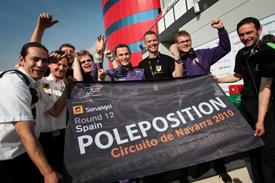 Davide Rigon took a big step towards recording his second Superleague Formula title, this time for Anderlecht, by beating his old club Beijing Guoan to pole position in the 2010 series finale at Navarra in Spain.
In the head-to-head final, Rigon was faster than Beijing's John Martin through every split time to take pole by 0.261 seconds. Points leader Rigon could now wrap up the title in Sunday's first race at Navarra.
"It's fantastic," said Rigon. "Whenever it is me against Martin we are always over the limit. The car was working very well, I'm very happy, but there's a lot of points to be won tomorrow. But today, we showed how fast we are."
Martin said: "We've got a really good car on old tyres, so I think we'll be looking good for the race. I've got nothing to lose, and I'll be racing for the win."
The first semi-final was a cracker, as Franck Perera (Bordeaux) outpaced Rigon in the first sector by 0.049s, but Rigon reversed that to a 0.168s advantage by the second split. Then Perera made a mistake in the final corners, and Rigon progressed by an inflated 1.2s margin.
The second semi followed suit, as although Yelmer Buurman (AC Milan) was fastest at the first split by 0.085s, Martin was quickest through the next two sectors and beat him by 0.451s. Buurman will start third.
In the first quarter-final, Rigon beat outgoing champion Adrian Valles (Sporting Lisbon) by almost seven tenths of a second, despite outbraking himself slightly at Turn 6. In the second, Perera claimed a big scalp as he outpaced title protagonist Craig Dolby (Tottenham) by just 0.066s.
Dolby, who is recovering from a flu-like illness, was ahead after sector one, but lost time in the middle section after a set-up change worked against him. He will start fifth.
In the third quarter-final, Frederic Vervisch (Liverpool) could not hold a candle to Martin, whose 1m26.970s was the fastest time at this stage. In the last one, Buurman beat Atech-Reid team-mate Alvaro Parente of Porto by 0.6s.
Before the knock-out stages, Group A - dubbed the 'group of death' with four of the five title protagonists present - was topped by Rigon, ahead of a last-gasp effort by Martin (an early spinner) that put him into the knock-out rounds. That was at the expense of Tristan Gommendy (Lyon), but the big news was that title contenders Ben Hanley (Olympiacos) and Max Wissel (FC Basel) fell at this hurdle, along with local heroes Marcos Martinez (Sevilla) and Maria de Villota (Atletico Madrid).
Group B, which was a little anti-climactic by comparison, was topped by Parente ahead of Dolby, Vervisch and Soucek. Practice pacesetter Robert Doornbos (Corinthians) failed to get anywhere near his time from this morning, and missed out on progressing by 0.048s.
Also out were Adrian Valles (Sporting Lisbon), series returnee Esteban Guerrieri (PSV Eindhoven) and new Roma driver, Maxi Cortes. Chris van der Drift (Galatasaray) did not take part in qualifying after his gearbox failed in practice.
Pos  Driver               Team                        Time
 1.  Davide Rigon         RSC Anderlecht              1m26.702s
 2.  John Martin          Beijing Guoan               1m26.963s
 3.  Yelmer Buurman       AC Milan                    1m27.356s
 4.  Franck Perera        Girondins de Bordeaux       1m28.000s
 5.  Craig Dolby          Tottenham Hotspur           1m27.118s
 6.  Frederic Vervisch    Liverpool FC                1m27.602s
 7.  Alvaro Parente       FC Porto                    1m27.650s
 8.  Andy Soucek          Flamengo                    1m27.789s
 9.  Tristan Gommendy     Olympique Lyonnais          1m26.867s
10.  Robert Doornbos      Corinthians                 1m27.249s
11.  Ben Hanley           Olympiacos                  1m27.021s
12.  Adrian Valles        Sporting Clube de Portugal  1m27.490s
13.  Max Wissel           FC Basel                    1m27.511s
14.  Esteban Guerrieri    PSV Eindhoven               1m27.624s
15.  Marcos Martinez      Sevilla FC                  1m27.559s
16.  Maxi Cortes          AS Roma                     1m28.099s
17.  Maria de Villota     Atletico de Madrid          1m28.936s
18.  Chris van der Drift  Galatasaray