Kubica: Dirty side a huge disadvantage
| | |
| --- | --- |
| By Jonathan Noble | Saturday, October 23rd 2010, 10:14 GMT |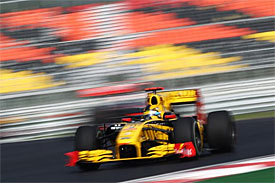 Robert Kubica reckons he is in for a very tough time in the Korean Grand Prix - and thinks one of his biggest problems comes from starting on the wrong side of the grid.
The Renault driver had looked set for one of his best performances of the season after topping the times in final free practice, but he could manage no better than eighth after the balance of his car dropped away in qualifying.
But worse than how his car felt, Kubica thinks he is going to face real difficulties getting away at the start – because he is one of the unlucky men who will start on the dirty side of the start-finish straight.
"I think P8 is like P11 almost," said Kubica. "This morning [in practice starts] there were more than 20 metres difference on 80 metres [of running], so it is really a lot.
"People who start on the left hand side, unless it is raining, they will have a big disadvantage and unfortunately I am starting on the dirty side.
"If someone asks me, I think I would prefer to start P11 than P8. I would have better chances for overtaking into Turn 1, but that is how it is and we have to make sure that we lose as little as possible because definitely we will lose a lot of ground."
Kubica explained his form in qualifying as the result of a balance shift – with it not feeling anywhere near as good as it had been in final practice. And the changing track conditions that contributed to that are likely to mix things up even more in the race.
"It has been quite difficult this weekend because the track was changing very quickly, and now there are some rain predictions so it might wash the rubber out. We will have to see. Tomorrow will be quite difficult and the pace in the beginning of the race will be very slow, and in addition the tyres will be wearing quite a lot so it will be an interesting race."
But despite the possibilities of high drama, Kubica reckons it is going to be very difficult for cars to overtake each other because the track is so dirty off line.
When asked if Turn 3 was the best opportunity, Kubica said: "I don't think there will be overtaking at that point. It is a very tight corner and a very sharp corner, so very, very difficult.
"Even if you get a better position or side by side it is still very difficult to outbrake the guy because the grip level difference at the corner is very sharp. If you miss the apex you go off track and, as I said before, as soon as you go off line it gets hard."