Holdsworth fastest in qualifying
| | |
| --- | --- |
| By Andrew van de Burgt | Saturday, October 23rd 2010, 01:18 GMT |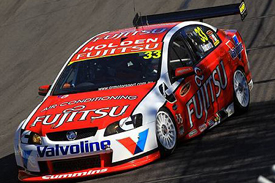 GRM Holden driver Lee Holdsworth set the pace in qualifying for the Gold Coast 600 at Surfers Paradise.
He booked his place in the top 10 pole position shoot-out with a great lap of 1m11.9101s, just 0.0062s faster than the Commodore of Garth Tander. Free practice pacesetter Mark Winterbottom was third, and the quickest Ford.
Steven Richards did a good job to set fourth in the second GRM car. Points leader James Courtney was sixth for Dick Johnson, 888 team-mates Jamie Whincup and Craig Lowndes eighth and ninth.
Rick Kelly was the unfortunate 11th fastest driver, missing the cut by 0.05s. Nathan Pretty, who's partnered by Scott Pruett this weekend, blotted his copybook again, shunting his Commodore heavily for the second time in as many days on his first flying lap.
Pos  Driver                Car                   Time
 1.  Lee Holdsworth        Holden Commodore VE   1m11.9101s
 2.  Garth Tander          Holden Commodore VE   1m11.9163s  +0.0062s
 3.  Mark Winterbottom     Ford Falcon FG        1m11.9424s  +0.0323s
 4.  Steven Richards       Ford Falcon FG        1m12.2042s  +0.2941s
 5.  Michael Caruso        Holden Commodore VE   1m12.2290s  +0.3189s
 6.  James Courtney        Ford Falcon FG        1m12.2811s  +0.3710s
 7.  Paul Dumbrell         Ford Falcon FG        1m12.3026s  +0.3925s
 8.  Jamie Whincup         Holden Commodore VE   1m12.4074s  +0.4973s
 9.  Craig Lowndes         Holden Commodore VE   1m12.4214s  +0.5113s
10.  Will Davison          Holden Commodore VE   1m12.4687s  +0.5586s
11.  Rick Kelly            Holden Commodore VE   1m12.5174s  +0.6073s
12.  Steven Johnson        Ford Falcon FG        1m12.6005s  +0.6904s
13.  Shane Van Gisbergen   Ford Falcon FG        1m12.6020s  +0.6919s
14.  Jason Richards        Holden Commodore VE   1m12.6127s  +0.7026s
15.  Russell Ingall        Holden Commodore VE   1m12.7298s  +0.8197s
16.  Fabian Coulthard      Holden Commodore VE   1m12.8820s  +0.9719s
17.  Todd Kelly            Holden Commodore VE   1m12.9522s  +1.0421s
18.  Tim Slade             Ford Falcon FG        1m12.9625s  +1.0524s
19.  Greg Murphy           Holden Commodore VE   1m12.9647s  +1.0546s
20.  Jason Bargwanna       Holden Commodore VE   1m12.9725s  +1.0624s
21.  Alex Davison          Ford Falcon FG        1m13.0167s  +1.1066s
22.  Jonathon Webb         Ford Falcon FG        1m13.0523s  +1.1422s
23.  Karl Reindler         Holden Commodore VE   1m13.1289s  +1.2188s
24.  Tony D'Alberto        Holden Commodore VE   1m13.1876s  +1.2775s
25.  Dean Fiore            Ford Falcon FG        1m13.4880s  +1.5779s
26.  Andrew Thompson       Holden Commodore VE   1m13.5548s  +1.6447s
27.  Tony Ricciardello     Holden Commodore VE   1m14.7204s  +2.8103s
28.  Jason Bright          Holden Commodore VE   1m14.8369s  +2.9268s
29.  Nathan Pretty         Holden Commodore VE   no time set