Red Bull yet to confirm 2011 line-up
| | |
| --- | --- |
| By Diego Mejia | Friday, October 22nd 2010, 21:03 GMT |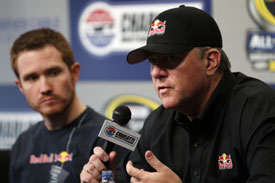 Red Bull Racing officials have yet to finalise the NASCAR team's driver line-up for next season, as they continue to monitor Brian Vickers' recovery from illness.
Following Kasey Kahne's early arrival at the team after being released by Richard Petty Motorsports this week, Red Bull Racing team general manager Jay Frye has stated that the outfit has yet to decide on who will partner Kahne next season.
Vickers, who has been with the team since its debut season in 2007, is currently recovering from treatment after being diagnosed with blood clots in May which forced him to stop racing immediately.
Although Vickers' condition has evolved positively and he expects to be ready to race in time for the start of the 2011 season, Frye says they are still keeping a close eye on his recovery.
"We're still monitoring Brian's health and his situation," said Frye. "So far everything seems really good. Our plan is to have two cars. Obviously in that situation, we have too many drivers. Then we have to figure out what to do.
"We continue to monitor Scott [Speed] and his performance, so we'll know more on that soon. A lot of it is dependent on Brian and his health."
Despite denying that any final decision has been made on Speed's future with the team, Frye said that there are performance clauses in the Californian's contract which could allow the team to release him at the end of the season.
Speed is currently 28th in the Sprint Cup standings, his best results being 10th places at Atlanta and Daytona.
"We've said this for some time now that there's performance clauses within his contract and again, we don't really get into contract discussions," Frye said. "We're going to end up having, at this point, two cars and possibly three drivers. At that point, decisions will have to be made. It's not necessarily the case that decisions have been made yet."
Frye also welcomed Kahne's early arrival, which he expects to help the team set a solid foundation for what will be its fifth full season at NASCAR's top level.
"Obviously, a lot of things happened this week and obviously we're very excited to get a head start on the 2011 season," said Frye. "This was something we obviously didn't anticipate happening but it did and we couldn't be more happy about it."