Rankings: Webber could move to top
| | |
| --- | --- |
| | Friday, October 22nd 2010, 11:46 GMT |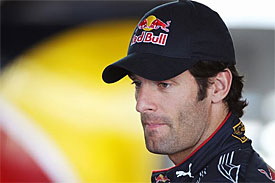 Mark Webber will take the number one spot in the Castrol Rankings from Sebastian Vettel if he wins this weekend's Korean Grand Prix from pole position.
The Australian currently trails his Red Bull team-mate after being beaten by Vettel in Japan. However, due only finishing 17th place in the corresponding race last year,
Webber only needs to do better than that in order to increase his score in Korea.
A victory from pole would put him neck and neck with Vettel's current points total. The German, however, is defending a win's worth of points, and will therefore drop below Webber after 30 weeks at the top if the World Championship leader can beat him to victory.
Fernando Alonso has hit great form recently to haul himself back into title contention against the Red Bulls. The Ferrari man is, like Webber, defending a low score and could bring himself up from his current fourth spot in the Castrol Rankings with a podium finish.
Whether he does or not is largely dependent on whether Sebastien Loeb (3) is beaten on Rally Spain - the latest round of the World Rally Championship - and on how McLaren's main title threat Lewis Hamilton (5) gets on in Korea.
Among the gainers at Yeongam should be Jaime Alguersuari (60) and Timo Glock (150), both of whom need only to qualify in the top 20 to improve their scores, no matter what happens in the race.
By contrast, Jarno Trulli (90) and Nick Heidfeld (337) are defending big points from 2009's corresponding race and are likely to suffer heavily.
Not as heavy as Kimi Raikkonen though. Having dropped from 15th to 96th in the past year, the Finn's Rally Spain shakedown crash means he will not score any points from the latest WRC round and is likely to drop outside the top 100.
Two other events should influence the top 10 this weekend. Jimmie Johnson (7) is in action in the NASCAR Sprint Cup at Martinsville and must finish at least second to prevent his score dropping.
IndyCar aces Will Power (6) and Dario Franchitti (9), are both competing at the V8 Supercar round at Surfers Paradise in Australia, sharing Ford Falcons with series regulars Steven Richards (416) and Steven Johnson (288).
If neither performs well, it could give Jimmie Johnson or fellow Sprint Cup title contender Kevin Harvick (10) a chance to move up.
To see the full Castrol Rankings, please log on to www.castroldriverrankings.com.