Massa: Qualifying key to RBR's edge
| | |
| --- | --- |
| By Jonathan Noble | Friday, October 22nd 2010, 02:54 GMT |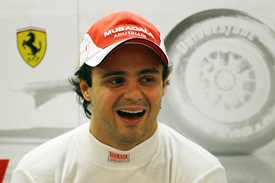 Felipe Massa believes the key to Red Bull Racing's advantage this season has been in having the best car for qualifying.
With just three races to go in the title standings, Massa has echoed comments from his team suggesting that Ferrari needs to get ahead of Red Bull on the grid if it is to stand a chance of beating it to the title.
"I think the best thing Red Bull has is the qualifying," said Massa. "It looks like it is a bit more easy for them to do the good lap in qualifying.
"Many times they do a completely different direction in qualifying and the race. Sometimes in the race they are not the quickest car on the track, but they start in front which is the biggest help.
"That is why I think if you look at the whole season, they are the team that has started most from the front. That is quite good. To fight in the last three races they need to be there, fighting at the front, but many races they started at the front they did not finish. So consistency is also important in the fight."
Massa himself is playing a supporting role to team-mate Fernando Alonso for the final three races, but has not ruled still being able to fight for victories.
"You are a professional, and you want the best for the team you work for," said Massa. "Definitely it does not mean that you cannot be there fighting for the victory - which is everything I want, to be starting and fighting for the victory.
"And the victory can also be good for the team-mate so it is something that I was looking for."