Q & A: Matthew Wilson on new Ford
| | |
| --- | --- |
| By David Evans | Thursday, October 21st 2010, 09:38 GMT |
Stobart Ford driver Matthew Wilson has taken a key role in the development testing of the Fiesta that will form Ford's next generation World Rally Championship contender.
After testing the definitive version of the new car for the first time, Wilson told AUTOSPORT how things were progressing, and how much he wants to drive the Fiesta in competition next season.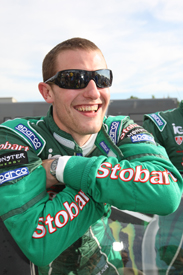 Q. How long did you drive for?
Matthew Wilson: It was a day on the airfield in Cumbria.
Q. Why not in the woods?
MW: It makes sense to do that sort of thing at the airfield. You can go out and do three or four kilometre runs at a time, then come back and get things changed or altered or whatever you want. If you go out into the forest, you could end up doing an eight or 10-kilometre loop, which is a bit much if you're wanting to change things regularly.
Q. So what exactly were you doing for the day?
MW: It was a lot of mapping work, which means getting the fuel mixtures right, getting the anti-lag system set right for the turbo - and just getting the engine installed in a new car. You know, the engine has run already, but it's all been done on the dyno, nothing has been done in the car. We were officially the first people to drive the car with the new engine it.
Q. Did it work?
MW: Perfectly. We didn't put a spanner on it all day, except to make the odd change here and there, there were no technical problems at all.
Q. How do you feel in the car?
MW: Really good, actually. I do feel much, much more at home in the car than I do in the Focus. It's kind of hard to explain, I don't know what it is, but in the first five or 10 kilometres I did in the car, I just knew I could push it more and feel more at home when we were pushing it. It's a fantastic car, there's no doubt about that.
Q. Is it a different driving style to the Focus?
MW: It is, yes. You really have to get the Fiesta by the scruff of the neck and drive it, you can't rely on the diffs or anything like that, it's down to you to get it turned into the corner and away. It's a great feeling to drive the car like that.
Q. Will you be driving it next year then?
MW: I really hope so. Like I said, I feel like this one was made for me and it would be a real shame for all my time in the car not to be put to some use.