McLaren duo still fighting for title
| | |
| --- | --- |
| By Jonathan Noble and Simon Strang | Thursday, October 21st 2010, 07:29 GMT |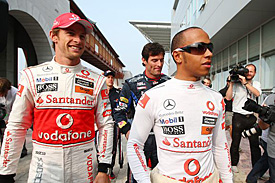 Both Lewis Hamilton and Jenson Button believe that a second world title is still within their grasp this year, despite the odds on either McLaren driver winning the championship being trimmed in recent races.
Neither driver has a won a race since Spa, both both believe that their MP4-25s will be more competitive over the last three races, and that they only require a non-finish from Mark Webber and Fernando Alonso for the gap to close back up again.
Hamilton, who is 28 points behind championship leader Webber, told the Korean pre-Grand Prix press conference that he intended to keep on pushing Red Bull despite a difficult run-in that has seen him crash twice and collect just one fifth-placed finish in the last three races.
"This weekend hopefully we will have a little bit more of a fighting chance against the Red Bulls and Ferrari and hopefully a bit more fortunate as well," he said,

"I think anything is possible and you can tell that us as a team and Ferrari are pushing very hard, I don't think the gap [to Red Bull] is that big, we have outqualified them in one race maybe, but I think we can close the gap okay."
Jenson Button who is a further three points adrift of Hamilton, knows he needs those in front him to stumble in the final three races. But he said that while the arithmetic made it possible to win the championship he would keep on fighting.
"Every time we go to a race it seems this is the critical race, but it is obviously a lot more difficult for us to win the world championship this year," he said. "But we've seen in past seasons that anything is possible, we've all had failures this year and issues, so it is definitely still possible after this event if it is mathematically possible.
"It's good to still be involved in the title hunt with three races to go," added the world champion. "It's more difficult for me as I am 31 points behind but there is still a possibility and I am hopeful.
"It will be mixed up, if we look at the last few races, Ferrari and RBR had legs on us a little bit but the next three should be closer and that will make an exciting fight until the end of the season."
Button also pointed out that he believed new updates McLaren has brought to Korea could tip the performance balance back in the team's favour this weekend.
"They have had the advantage in qualifying but if you look at the last few races we have got closer, which is good," he said. "I know everyone is bringing new packages to circuits, so thanks to the guys for bringing parts here which should make a difference, we'll have to see if that is correct."