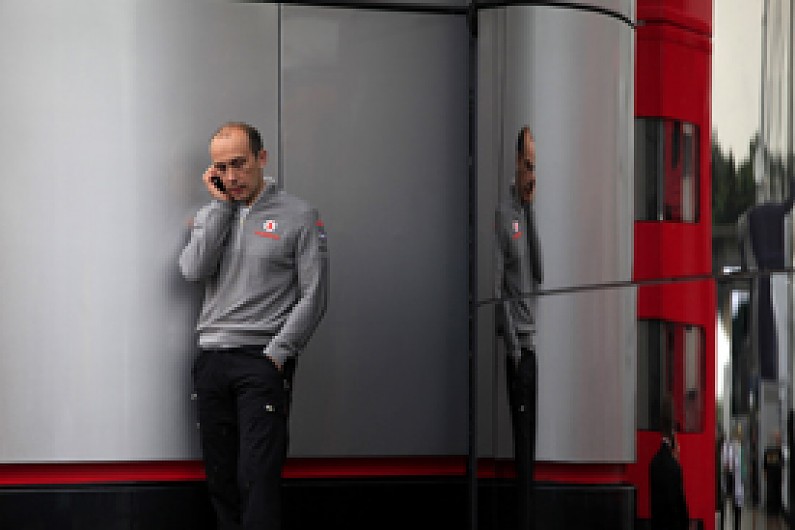 McLaren goes into this weekend's Korean Grand Prix as the underdog among the three title-fighting teams, but optimistic that it still has a realistic chance.
In the team's latest teleconference, principal race engineer Phil Prew gave the media the lowdown on the mood in the McLaren camp.
Q. Is it now or never for McLaren in Korea this weekend?
Phil Prew: I think our target this weekend is very much to get on the podium - and in fact we need to be in front of [Mark] Webber. So we need two cars at the front, competing for the front row of the grid in qualifying, and then delivering a race result on the podium. That's the target.
Q. Jenson Button has spoken about how different it feels compared to last season when he was leading from the front and the others had to try and catch him, to being the other way around now. Is that how you're seeing it - that you've got to be ready to pounce but that it's Red Bull and Fernando Alonso's title to lose?
PP: It's always difficult to close in during the season. Personally I was in the position in 2007 when we gave away an awful lot of points in two races - effectively 42 points [in the 2010 system] with Lewis to lose the championship in 2007. So defending a lead can give you added pressure, it possibly leads you to change your approach slightly, but for McLaren at the moment it's a very clear objective - we've got to be winning races, we've got to have strong performances from both drivers, and then we'll see how it pans out over the next three races.
Q. Can you give us an update on developments for this weekend and whether you'll definitely be running the new rear wing?
PP: We will certainly be running it on Friday, we have that rear wing back here. We also have a modified front wing, so they're the two big updates that will be visible on the car. In addition to that we have some smaller mechanical updates which will be on the car as well and aiming to add to performance. We certainly will be running the new rear wing on Friday and continuing our investigates which were kind of cut short a little bit at Suzuka. Our understanding has improved and we're optimistic that we can make it work here.
Q. Did you actually manage to make much progress with the new parts at Suzuka or was there not enough chance with the lack of track time?
PP: Certainly our understanding and knowledge of how it all works with the car and interacts with the rest of the car, we gained some knowledge there. But really we ran out of time at Suzuka to gain the confidence that it was a robust solution to take racing. A good clear session on Friday here will give us a lot more track time and we're optimistic that we can work through a programme to give us that confidence. Obviously our desire and hope is that we can race that with confidence and get the performance out of it that we think is available.
Q. There's a lot of talk about the Korean track surface and that there could be a lot of guesswork for teams this weekend. What's your take on that and how will you be managing it?
PP: I actually walked the circuit this morning with the other engineers, and I have to say I was fairly impressed with what I saw. The track itself, the kerbs and run-off and all of that sort of thing looked pretty good. The track surface itself, yes it has been recently laid, and it is a bit of an unknown. I don't think it looked too bad in terms of it wasn't particularly greasy under-foot and it looked - from what you can tell - smooth, well-laid and consistent all the way around the circuit.
In terms of how it develops and how the tyres interact with it, it is going to be guesswork. It's going to evolve, I expect, very quickly through the first session and then I think we should expect it to continue to improve all the way through qualifying and then the race.
For ourselves, that means we have to be careful about what set-up work we do, because the result could be influenced more by track evolution and not necessarily a chance that you make to the car. Equally in qualifying you need to be prepared that the track could be improving quickly and therefore a lap time set at the beginning of Q1 might not be sufficient by the time you get to Q1. And even in Q3, I think the desire to do your lap right at the end will be there.
So I think track evolution will be the big player, and we just have to do what we always do, which is adapt the cars to the conditions that we find. The fact is, the conditions might change more quickly than normal here, but it's what the guys do and what the drivers are used to doing.
Q. Looking at the layout of the track, do you think it's a layout that will suit McLaren compared to its rivals?
PP: To be honest, it's a very good combination of quite a few different sorts of circuit. Obviously it has some long straights with big stops, which is not dissimilar to Canada, which I think will favour our car. Sector two is a bit more like Turkey, where we performed quite well. And then you come to the last sector, which would typically be a very high-downforce sector, a bit more like Hungary perhaps.
So if I had to say which car it favoured, I'd say it was actually quite a neutral circuit and there's aspects of the track that will favour every one of the top teams. It just depends whether we can gain enough on the long straights and the high-speed sectors to compensate for perhaps the strengths of the Red Bull in some of the flowing, long corners that we see towards the end of the circuit.
There are certainly areas where we will excel or be quite strong, but I don't think any car in the top three will have it all their own way.
Q. How important will it be to get on the front row? Overtaking looks possible, so would you still be confident if you qualified behind the two Red Bulls?
PP: Yes, I would. I think we've had some very good launch performance over recent races, which would put us in good stead going into the first corner. But then off the startline there are two good straights and on the lap there are three good straights that give you opportunity to catch up and to overtake.
So in that aspect, I think there are some very good overtaking opportunities here - not just in braking points to make the overtaking, but the opportunity to gain on the first two straights then make the overtaking manoeuvre into Turn 4, for example. I think we have strength in that area of our car, and I think the opening laps could be very interesting even if we were behind.
Q. For the first time since 2007, you've got both drivers going for the title. How do you apply the experiences from three years ago to how you're operating this year?
PP: I think with where we are at the moment in terms of chasing other people, we need strong results from both drivers. We have to attack with both drivers. If we can get both of them to challenge for the title and overtake the Red Bulls, then maybe that's another problem. But at this stage of the game, both drivers need to be taking points off our immediate opposition, and the only way to do that is to let them drive their own race and attack as much as they can.
Q. Knowing what difficulties these situations can present within a team, do you think that's something that could trip Red Bull up?
PP: They have a different problem to us, yes. I don't know whether it will trip them up. They have their own policies and they're following those through. It appears from the outside that both drivers are having an equal opportunity.
Q. We've seen Button take some different decisions on strategy and set-up in the last couple of races. Is that because he thinks the best chance of beating the Red Bulls is to do something different?
PP: All of the decisions are based on the performance that he feels is in the car and how he can best exploit that performance. They're aimed at getting better performance and his driving style is slightly different from Lewis and his decisions are consistent with those differences, I think. I don't think he's deliberately going out of the way.
We're prepared to take some risks if that's necessary, but it is really ultimately going for the best lap time, and if that's different to other people, then we're prepared to take that.
Q. With so many unknowns over the circuit, would you say there might be scope for someone to do something different and gamble to get a win?
PP: Potentially, yeah. I think some of that will come from as we see the track evolve. It's the big issue. An example may be that if the track grip is poor then a higher-downforce solution may work, but somebody who is brave may choose to take low downforce levels expecting the track grip to improve through the race, and then they might be in a strong position through the race to have overtaking opportunities.
So there could be some opportunities to take slightly different routes. We need to gauge the conditions and what opportunities there are, and we'll try and do the best then.
Q. Are Lewis and Jenson still pretty motivated despite the setbacks in the last few races?
PP: Absolutely. I feel we've under-delivered points in the last couple of races, which is a frustration to the drivers and the team. But they know that the car has the pace and the potential to be competing, and finishing higher up than we've achieved recently. They both want to win races and they both want to win this championship, and to do that we have to be winning.
It's at a stage now where a win is what's required and that's what we're gunning for. We have continual upgrades to the car, which helps to motivate everybody. They're plenty motivated at the moment.
New season.
New rules.
New cars.
New drivers.
Get ready for an F1 season like no other with unlimited access to the world's best motorsport journalism.
Get 10 free extra stories
Upgrade for free - and boost your monthly news limit instantly.
Register for free
Expert opinion.
Technical insight.
Unbeatable analysis.