| | |
| --- | --- |
| Kallio steps down from Pramac seat | |
| | |
| --- | --- |
| By Matt Beer | Sunday, October 17th 2010, 13:57 GMT |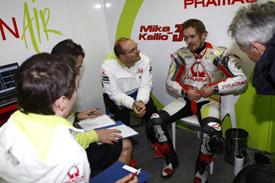 Pramac Ducati has announced that Mika Kallio will step down from the team for the final two rounds of the MotoGP season, clearing the way for Superbike frontrunner Carlos Checa to return to the series in his place.
Kallio has struggled in his second MotoGP season and is only 17th in the championship. He had been baffled by his issues with the Ducati's handling and had also begun to suffer recurrent pain from a shoulder injury sustained in France. He will now receive treatment for the latter problem, before returning to racing - most likely in Moto2 - in 2011.
"It is since Japan's race that the pain in my left shoulder, injured in the Le Mans race, has become too intense," Kallio said. "I immediately talked to the team, who understood my situation and agreed that I would try to race in Malaysia and Australia and then decide to continue or not in the last two races.
"Unfortunately, despite the good race today, the pain didn't allowed me to perform in the best way. Together with the team, we decided to conclude our partnership today. It has been a hard choice for me, but in this way I'll be able to find the best physical condition and think about my future.
"I would like to thank [team boss] Paolo Campinoti, who was very helpful in managing this situation."
Although this season had been a miserable one for Kallio, the Finn had impressed greatly in his rookie year with Pramac in 2009 - when he was even temporarily promoted to the works Ducati team when Casey Stoner's illness forced him to miss three races.
Campinoti said he respected Kallio's decision and paid tribute to his efforts.
"I would never like to find myself in these situations, but when a rider asks you to not run because he cannot give 100 per cent for the team, you don't think to do more than accept his gesture of sincerity," said the Pramac boss.
"We had accepted his request and I would like, on behalf of the Pramac Racing Team and our partners, to thank Mika and wish him a wonderful future full of happiness and success. In this two years, Mika has always demonstrated great honesty, giving always the best he can for our team and colours. Is also for this reason that we'll always consider him one member of our family."
Checa is expected to be announced as Kallio's replacement in due course. Earlier this week the 38-year-old former MotoGP rider tested a Ducati MotoGP bike as his reward for finishing third in the Superbike standings with the Althea Ducati team, and then declared on his Twitter feed that he would race at Estoril and Valencia.
Pramac has so far declined to confirm that Checa will step in for Kallio alongside Aleix Espargaro.
"In this moment we are thinking about a substitute for the last two races of the year in Portugal and Spain, but just in the following days, after we sign our agreement, we'll officially announce him," said Campinoti.
Checa's appointment would only be for the remaining 2010 rounds, as Pramac is tipped to run current Suzuki rider Loris Capirossi and Moto2 champion Toni Elias in the 2011 MotoGP season.