McMurray beats Chasers to victory
| | |
| --- | --- |
| By Diego Mejia | Sunday, October 17th 2010, 05:35 GMT |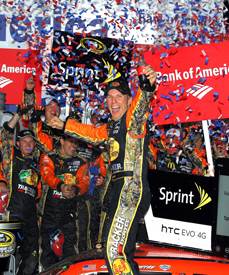 Jamie McMurray claimed his third win of the season by beating title contenders Kyle Busch and Jimmie Johnson on Saturday night at Charlotte.
The Earnhardt Ganassi driver worked his way up in the order from the early laps of the race and was able to stay in close contention at the front, leading the race for the first time on lap 179 after running out of sequence with the leaders by staying out during the fifth caution of the day.
McMurray ultimately lost the lead to Johnson but remained among the frontrunners when the final caution of the race waved for debris on the track with 25 laps to go. All the leaders stayed out and McMurray restarted second beside Kyle Busch, known for his supreme talent on cold tyres.
When the green flag waved McMurray was quick off the line and started clearing Busch, eventually taking the lead and pulling away from the Joe Gibbs racer, who then had to fend off a charging Johnson.
While the battle for second place heated up behind him, McMurray stretched his lead on his way to his third win of the season at a track where he claimed his maiden Sprint Cup victory eight years ago, driving for Chip Ganassi in only his second race in the series.
"It was just our night," McMurray said. "Our car was unbelievable those last 25 or 30 laps. It was effortless to drive and had a lot of speed in it. It was just a really good night for us.
"Restarts have all been really good for me. And I don't know why, but I feel like I do a really good job when the tyres spin, of not spinning my tyres... I went through Turns 1 and 2 wide open and I got a little bit of a run on Kyle and I heard the spotter say, 'He's still there. He's still there. Clear'...
"As soon as I heard the spotter say 'clear' and I felt that, that's a pretty good feeling, I promise you."
Busch was able to keep Johnson behind, but still came out disappointed having led the most laps but missed on victory. He rued set-up adjustments in the final pitstops, having had the best car for most of the night, leading even with a sticky throttle in the early laps.
"Jamie got a good restart and I don't know if he got pushed from Jimmie or not but he had a good run, a good head of momentum getting into Turn 1 and then I got there and my car pushed up the racetrack and I went back to the gas and it was too late," said Busch, who moved up four places to fifth in the Chase standings.
Johnson's race was one of recovery following a spin on lap 35 which had little consequence besides a blown tyre as he avoided contact with the barrier and rivals also managed to avoid him. He led the race for 15 laps, which means he has been up front for the past 18 Charlotte races, and although a seventh win at the track eluded him, he leaves NASCAR's mecca with a healthier Chase lead.
"Hate that I spun out, but I'm kind of proud that I didn't hit anything because I did a lot of driving out the side, in reverse and turning the wheel — just trying to keep off the fence," said Johnson. "We just never gave up on it tonight. We got one more race behind us. That's great. We'll just keep plugging along and see what happens after Talladega."
Denny Hamlin finished fourth behind Johnson and he now trails the reigning champion by 41 points in the standings. The Joe Gibbs driver led a lap to get five bonus points but never had the speed to contend for victory. Greg Biffle bounced back from his engine failure a week ago to lead the Roush Fenway cars in fifth ahead of his team-mate Matt Kenseth.
Joey Logano rounded out a great day for JGR with seventh ahead of Kevin Harvick, who had targeted a top-10 finish before the race in order to remain in contention for the title, a goal he achieved in the end as he keeps third in the standings, 77 points behind Johnson. Jeff Gordon, fourth in the Chase, led early on and had to recover from electrical issues later but was then hit by a speeding penalty which put him a lap down.
Tony Stewart's title hopes took a hit when the right rear of his car got damaged on impact while trying to avoid a chain reaction ignited by his Stewart-Haas team-mate Ryan Newman, who spun on the second lap of the race. He eventually finished down in 21st place and dropped to sixth in the standings.
There were plenty of spins throughout the night, Kurt Busch being another Chaser to lose control of his car at some point. However Kasey Kahne, a former winner at the track, was the only one hitting the wall after a spin, his car eventually finishing the race after repairs, although driven by JJ Yeley.
Pos  Driver              Car        Laps
 1.  Jamie McMurray      Chevrolet  334
 2.  Kyle Busch          Toyota     334
 3.  Jimmie Johnson      Chevrolet  334
 4.  Denny Hamlin        Toyota     334
 5.  Greg Biffle         Ford       334
 6.  Matt Kenseth        Ford       334
 7.  Joey Logano         Toyota     334
 8.  Kevin Harvick       Chevrolet  334
 9.  David Reutimann     Toyota     334
10.  David Ragan         Ford       334
11.  Juan Pablo Montoya  Chevrolet  334
12.  Carl Edwards        Ford       334
13.  Regan Smith         Chevrolet  334
14.  Mark Martin         Chevrolet  334
15.  Martin Truex Jr     Toyota     334
16.  Marcos Ambrose      Toyota     334
17.  Clint Bowyer        Chevrolet  334
18.  Reed Sorenson       Toyota     334
19.  Scott Speed         Toyota     334
20.  Jeff Burton         Chevrolet  334
21.  Tony Stewart        Chevrolet  334
22.  Bobby Labonte       Chevrolet  333
23.  Jeff Gordon         Chevrolet  333
24.  Paul Menard         Ford       333
25.  AJ Allmendinger     Ford       333
26.  Elliott Sadler      Ford       332
27.  Brad Keselowski     Dodge      332
28.  David Gilliland     Ford       332
29.  Dale Earnhardt Jr   Chevrolet  331
30.  Kurt Busch          Dodge      331
31.  Travis Kvapil       Ford       331
32.  Dave Blaney         Ford       331
33.  Robby Gordon        Toyota     327
34.  Andy Lally          Chevrolet  315
35.  Bill Elliott        Ford       305
36.  Ryan Newman         Chevrolet  272
37.  Patrick Carpentier  Ford       217
38.  Kasey Kahne         Ford       214
39.  Michael McDowell    Chevrolet  127
40.  Sam Hornish Jr      Dodge      122
41.  Jeff Green          Toyota     91
42.  Landon Cassill      Chevrolet  89
43.  JJ Yeley            Chevrolet  73