Q & A with Juho Hanninen
| | |
| --- | --- |
| By David Evans | Saturday, October 16th 2010, 20:10 GMT |
Juho Hanninen started the first full day of the Rally of Scotland frustrated that he could not match Guy Wilks and Kris Meeke. But then a series of fast stage times for the newly-crowned Intercontinental Rally Challenge champion and problems for the two British drivers saw Hanninen surge into the lead.
Having ended the day with an 11-second cushion over nearest rival Andreas Mikkelsen, Hanninen talked to AUTOSPORT after his eventful rally so far.
Q. A good afternoon?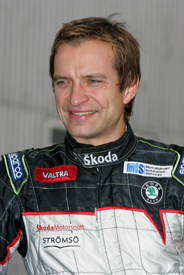 Juho Hanninen: It was okay, not so bad. This morning you could go where you liked and choose the lines. But this afternoon there were some more ruts around. It was a little bit more slippery.
But still, it was very nice stages. There were some rocks around, but okay, you know where they are going to be: inside the slow hairpin bends.
Q. And tomorrow? It's not a huge lead, but it's a lead...
JH: Yes, and Mikkelsen will push tomorrow, I am sure about that. I think I need to keep the same speed and avoid the punctures. It's nice to have a fight. I want to win this rally. I will push tomorrow.
Q. Would you have beaten Wilks if he was still in?
JH: He was quick this morning, I don't know. It would have been an interesting fight, hey? Now we don't know, but I would have tried, I think.
Q. What about that last stage today, where Mikkelsen beat you: how hard were you going?
JH: I took a little bit less speed than the first pass. Okay, the gap is 11 seconds so there is no need to push to the max. He has been driving very well all day.
Q. Do you have split times in the car?
JH: No. After my time in the first stage this morning, maybe it's better that I don't have any of the split times. I said this to the team: if I had seen the splits in the first one, I don't know what I would have done!
Q. And the stages? Are you enjoying them?
JH: They are really nice, I am surprised how nice they are. I like these more than Wales, actually, sometimes they're almost as good as Finland!