| | |
| --- | --- |
| Stoner: Weather is key issue | |
| | |
| --- | --- |
| By Matt Beer | Saturday, October 16th 2010, 04:53 GMT |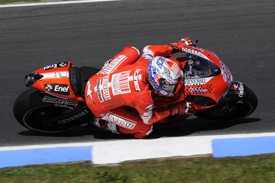 Casey Stoner is confident that he and Ducati have the pace to fight for a fourth straight Australian Grand Prix whatever the conditions at Phillip Island tomorrow, but admitted that the weather will be the main factor in the race.
Conditions have been poor at Phillip Island all weekend, with Friday practice delayed by two hours due to flooding and then running on a very wet track, while showers have continued today, along with low temperatures and strong wings.
"It's thrown almost every condition we could imagine at us over these two days, so we're going to have to wait and understand what the weather's going to do tomorrow and see how we're going to have the bike set-up, and whether it's going to be a flag-to-flag race," said Stoner, who took pole by a commanding 0.6 seconds today.
"So far I think we've done the best work we can do in every condition. We're quite happy with the settings in the wet, but unfortunately even our wet session wasn't a true wet session, it was slowly drying. Unfortunately we couldn't get a good reading on what we needed with the bike."
The Australian was untouchable in qualifying as he wrapped up a third consecutive pole at his home track.
"These last two sessions have been pretty good for us," Stoner said. "We improved a lot this morning in the last 30 minutes of the session.
"In this last one, we were trying to improve the bike but couldn't get it much better until 30 minutes to go, when we made a big step forward and were able to keep improving until the end.
"With the last two soft tyres we were able to improve our lap time substantially, so we're very happy with the way things have gone and we're in the best position possible for tomorrow."