Patrick enters first four 2011 rounds
| | |
| --- | --- |
| By Diego Mejia | Saturday, October 16th 2010, 02:50 GMT |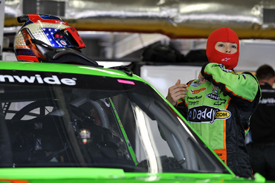 Danica Patrick is set to enter the first four events of the 2011 NASCAR Nationwide Series season, including her first outing ever at Bristol.
The IndyCar star is set to continue exploring a future in NASCAR by entering a limited schedule again in 2011, which may include a similar number of events as this year although with a longer first stretch, before she starts her IndyCar Series season with Andretti Autosport at the end of March.
Patrick will again drive for JR Motorsports, a team co-owned by Rick Hendrick and Dale Earnhardt Jr, kicking off with season opener at Daytona, followed by what will be her home event at Phoenix, a second career start at Las Vegas and her debut at the half-mile Bristol Motor Speedway.
The rest of her schedule will be set depending on her IndyCar commitments and also on where the series' season finale takes place, something that has yet to be determined.
"I know we're all anxious to get the whole schedule put in place, but I'm extremely excited to be able to confirm our participation in the first four races," Patrick said. "We'll have four extremely challenging and unique races to start our 2011 season, and I'm anxious to return to a lot of those tracks with at least a little bit of familiarity."
Patrick said that only at the end of next year will she be able to decide on whether she pursues a full-time NASCAR career or continues racing in IndyCar. No Sprint Cup outings are planned for her in 2011 for the time being, despite a possible move by JR Motorsports to NASCAR's top level being on the cards.
"At this point in time, the best thing I can do is focus on each individual day that I'm in the car and focus on that and make the most of that and do the best I can possibly do and give it my full attention," said Patrick. "Then when I've given it my all, I can pull back and look at it and see where my heart goes and where the opportunities are."
In 2011 Patrick may end up entering up to 30 races between her IndyCar and Nationwide Series schedules. This year she still has four events left in NASCAR's second-tier series following Friday's race at Charlotte, which is her ninth this year.