McLaren: Writing drivers off 'unwise'
| | |
| --- | --- |
| By Pablo Elizalde | Friday, October 15th 2010, 09:20 GMT |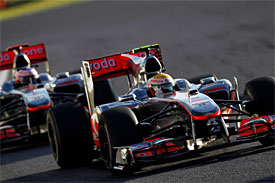 McLaren boss Martin Whitmarsh has warned rivals that it would be "unwise" to write Jenson Button and Lewis Hamilton off the title battle despite their gap to the top of the standings.
With only three races remaining, Hamilton is 28 points behind championship leader Mark Webber, with Button three points adrift of his team-mate.
The gaps mean that the McLaren duo will need the drivers in front to endure a series of poor races in order to have a shot at the title.
Despite that, Whitmarsh says his team will not give up until the end, and insisted it would not be clever to rule his drivers out of the fight.
"With three races remaining, and 75 points on the table for the drivers, it would be unwise to write off Jenson, Lewis or McLaren," said Whitmarsh.
"Both drivers have won world championships before - they understand the difficulties of such a unique situation, and both have learned how to deliver their best under high pressure. They will be ready for this battle.
"And it's a battle that will doubtless be won by consistency. While we will continue with our aggressive development strategy, bringing further new components to this race, we're mindful of the need to bag points at every race.
"Nonetheless, we are committed to winning, and won't give up without a fight."
Hamilton has scored just 10 points in the last three races, thanks to his fifth-place finish at the Japanese Grand Prix, where the Briton was hit by a gearbox failure.
The 2008 world champion had already being hit with a penalty for changing the gearbox ahead of the race.
Whitmarsh clarified, however, that thanks to the rules, Hamilton will not have another penalty next week in Korea.
"Following his gearbox issue in Suzuka, Lewis will not face a second successive five-place grid penalty this weekend," he said.
"The gearbox regulations were framed to ensure teams weren't penalised twice for the same gearbox issue, so Lewis will go into the weekend without risk of further penalty."