Harvick: Title fight down to top five
| | |
| --- | --- |
| By Diego Mejia | Friday, October 15th 2010, 03:20 GMT |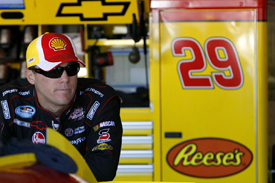 Chase contender Kevin Harvick believes the battle for this year's NASCAR Sprint Cup title has narrowed down to the top five in the championship standings, heading into the fifth race of the play-off.
The Richard Childress racer currently ranks third in the Chase, trailing leader Jimmie Johnson by 54 points, second-placed Denny Hamlin by 18, while former champions Jeff Gordon and Tony Stewart follow him in the top five.
Behind them Penske's Kurt Busch, who was involved in an incident late during last weekend's race at Fontana, is already 140 points adrift of Johnson, which according to Harvick is probably a big enough gap to already consider him a championship outsider.
Harvick continues to pin his title hopes on the consistency that earned him the lead in the points for most of this year's regular season.
"I think you look from fifth forward," said Harvick when asked who in his mind was still in the Chase. "I think that is it really unless somebody just goes on a tear, this is just kind of where it is at right now.
"Consistency has been our strong point, so there is no reason not to lean on that. If it is not good enough in the end, it's not good enough. But those are the things that we lean on to be the strong point and get the good finishes and just wear them down. That is really what our strong point is."
Busch, however, does not feel he is out of the Chase, although he admitted that for him to revive his title bid, he needs to count on the leaders hitting some sort of trouble in the coming six races.
"Anything can happen at any given moment," Busch said. "Whether it's an engine failure, another competitor running into someone on the track, points can swap so fast that anything can happen and it's anyone's game. There's no reason to panic. There's no reason to do anything out of the ordinary.
"If you're running around fifth or sixth in points and you win, you can't expect to vault into second place anymore, you have to work your way around those guys. But if the leader has problems then it opens the door for everybody."
Busch's sibling Kyle, who had a costly clash with David Reutimann at Kansas and then retired with an engine failure last week at Fontana, has already given up on this year's title as he now ranks seventh in the championship, 187 points behind Johnson.
"Realistically, you're not going to beat seven, eight guys - however many are in front of me, 187 points, the rest of the year, unless they all have trouble at least once or twice," said the younger of the Busch brothers. "The realisticness of that is why I said our championship hopes and dreams are lost.
"If I go out there and win the last six races and Jimmie Johnson finishes in the top 10 even in all those races, I won't beat him. There's not enough points there that I'm going to make up on him. It's going to be hard to do and it is very frustrating to that point, but that's racing sometimes I guess."
For the past two years Johnson has never surrendered the Chase lead once he has taken it, claiming consecutive titles in the process. This year he could make history as the first to win five Sprint Cup championships in a row.