Button questions prime-tyre strategy
| | |
| --- | --- |
| By Simon Strang | Sunday, October 10th 2010, 09:12 GMT |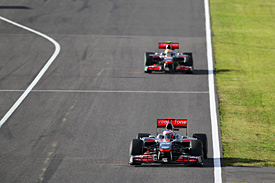 Jenson Button has questioned whether it was the correct strategy for him to remain on the prime tyre for the majority of the Japanese Grand Prix, while his rivals began the race on 'option' Bridgestone and pitted sooner.
Button finished the race fourth behind the two Red Bulls and Fernando Alonso, but only passed team-mate Lewis Hamilton late in the race when the sister McLaren ran into gearbox problems.
"I thought the others would struggle on the options at the start of the race, they didn't," Button told the BBC. "I wasn't really able to push Fernando, and I had Lewis right behind me.
"We need to look at the data but to stay out when everyone else pitted was probably the wrong thing. Maybe you should cover the people that you are racing and we didn't do that.
"At the end of the race when we did put the option on it was great. The car had a lot of grip and I was very fast. We weren't quick enough to beat the Red Bulls and the Ferrari, possibly not," he added.
"Just got to look at the data and see why we stayed out for so long, I think it was 40 laps. It was quite a tough race on such old tyres. I don't mean we would have finished any further up but I think it is just useful information for the future."