Webber says he will have to win again
| | |
| --- | --- |
| By Jonathan Noble and Pablo Elizalde | Sunday, October 10th 2010, 08:27 GMT |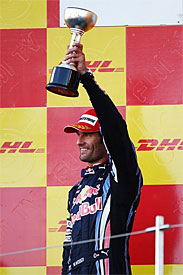 Mark Webber believes he will need to win again in the remaining races of the season if he is to secure this year's title.
The Australian finished in second place at Suzuka on Sunday, thus increasing his lead to Ferrari's Fernando Alonso to 14 points with three races left.
Team-mate Sebastian Vettel, however, won the race to equal Alonso on points.
Webber last won at the Hungarian Grand Prix at the start of August, but he reckons he will have to win again in the remaining races.
"The most important thing is the gap is going in the right way," said Webber after today's race. "I have to keep it like that. We have three races to go and it is a good result for me.
"Seb deserved the victory but five of us can win races. I need to win again in the future and I am confident I can do that. That could be beneficial.
"Reliability could play a role. We have 75 points to go. These guys have a bit less but in the end I am confident."
Webber admitted nonetheless that he was delighted with his result in today's race despite not winning.
"Absolutely. A very good day for me. I was close to Seb in qualifying and we know how crucial that is. After that it was difficult for me to win the race unless I got the start right. There was a bit of luck when Robert [Kubica] had the wheel nut come off.
"It was a beautiful but it was a formation finish. We were following each other around and it was impossible to get closer than 1.5-1 second.
"I am very happy with how I drove here. Seb deserved the victory and Fernando did not drive bad either."